New Nutter Field House playing surface named Rich and Karen Brooks Field
Brooks Coached UK from 2003-09, Winning Three Bowl Games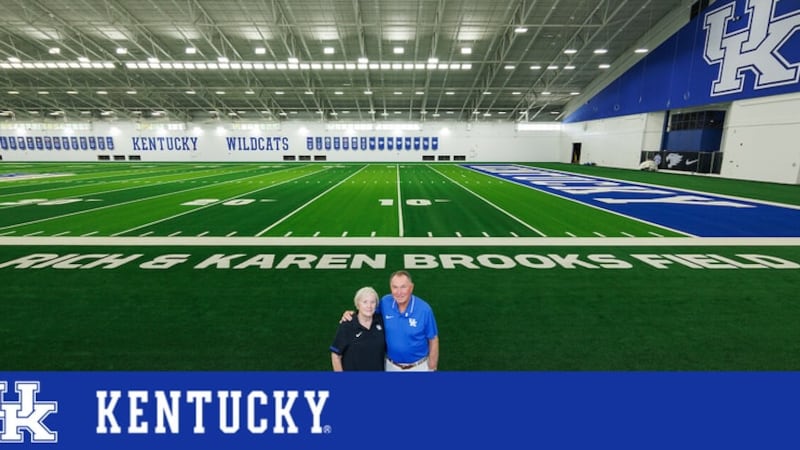 Published: Jul. 10, 2023 at 10:17 PM EDT
Very few people are given the honor of having a building, stadium, field, or arena named in their honor. For former Kentucky football coach Rich Brooks, it has now happened twice.
As the University of Kentucky Athletics Department completes renovation on the Nutter Field House, a gift by donors Brett and Billie Jo Setzer allowed the playing surface inside that facility to be named Rich and Karen Brooks Field. It's the second such honor for the former UK head coach, who also saw the University of Oregon name its playing surface inside Autzen Stadium Rich Brooks Field.
Brooks is touched and humbled by the honor that UK is bestowing upon him.
"It's obviously a very special moment," Brooks said of being informed about this accolade. "It's just a wonderful honor and I'm very grateful."
Brooks was the Kentucky head coach from 2003-09. His tenure had a rough start, but there was a good reason as to why.
"When I came here, we were on probation," Brooks said. "Had 61 scholarship players to start and we were limited on how many we could replace each year. So, it took us into the fourth year to turn the program around."
Once the scholarship levels evened out, Brooks and his Cats gained some traction and it wasn't long until Kentucky was an annual bowl team. Brooks took UK to four consecutive bowls, winning the first three. For Brooks, it's one of his fondest memories.
"Once we did (get over the hump), we were able to beat Clemson in the Music City Bowl, then turn around and beat Florida State in the Music City Bowl, then beat East Carolina in the Liberty Bowl," Brooks said. "Unfortunately, I lost my last one, to Clemson.
"Brooks ultimately had success at both Oregon and Kentucky, but he also remembers the early years at both stops, when things weren't going as well as they eventually would.
"I will remind you that I also had 'Ditch Rich' bumper stickers and t-shirts sold in the parking lots at football games at both places,"
Brooks said. "So, before the success happened, there was a hard road to climb. So, there is humility that does come along with the honor of having such a special thing done in our game."Brooks said that when he arrived in Lexington, he could never have imagined having such an honor bestowed upon him.
"That wasn't in my mind," Brooks said. "(I was) just trying to win enough games to be respectable and get into bowl games. To take the program back to a different level than it had been in a few years."
Despite the rough beginning, the Brooks family enjoyed their time living in the Bluegrass.
"We did love living here," Brooks said. "One of the best places in the country you could live in. The people are wonderful. It's a very special place to be.
"As Brooks reflects on his coaching career, he believes that the relationships he created will be what people remember about him.
"To me, my legacy, I hope, is the association with players, their development, their life after playing football, their families, their jobs, their successes," Brooks said. "And I do run into quite a few of them from time to time and that is the pleasure of what I've been able to do in coaching is just seeing them in their environment today as grownups."
The Nutter Field House renovation, which includes the newly-named Rich and Karen Brooks Field, is slated to be complete by the time football practice begins in August.
Thanks to the new Rich and Karen Brooks field inside the Nutter Field House, a new generation of players and coaches will find out about the legacy that Brooks has had on the game of football. It's a legacy that has led to not one, but two universities naming fields in his honor.
Copyright 2023 WKYT. All rights reserved.