Baby reunited with firefighters who delivered him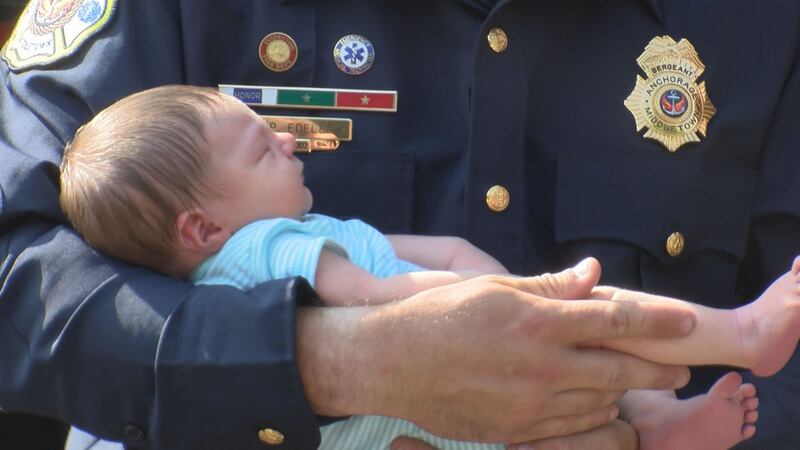 Published: Jul. 26, 2023 at 1:27 PM EDT
LOUISVILLE, Ky. (WAVE) - A baby who was born at a fire station was able to meet the firefighters who delivered him.
Lucas Eaton was born around 4 a.m. July 20 at the Anchorage Middletown Fire and EMS station 6, located at 15000 Taylorsville Road in Fisherville.
His parents, Kristi and Matt Eaton, were on their way to the hospital when they realized they wouldn't make it in time. Matt said he pulled into the fire station and called 911 while radio dispatchers alerted crews to come to the front bay to deliver the baby.
"It was just kind of like this magical moment where you're kind of freaking out a little bit and you're knocking on the door and all of the sudden the doors start coming up," Matt recalled. "In my mind it was slow motion watching these guys walk out ready to take on the world."
Firefighter Joseph Burkhardt and Sgt. Paul Edelen answered the call and helped deliver the healthy boy. Matt was even able to cut the cord.
"The training that comes in that we go through -- our rigorous training in every shape or form whether it's medical or fire-- It all just comes together one thing after another," Sgt. Edelen said.
For Edelen, this was his 12th delivery.
The two firefighters were surrounded by the entire family less than a week later. Lucas is now one of nine children.
Copyright 2023 WAVE. All rights reserved.