'Cocaine Bear' joins the National Bobblehead Hall of Fame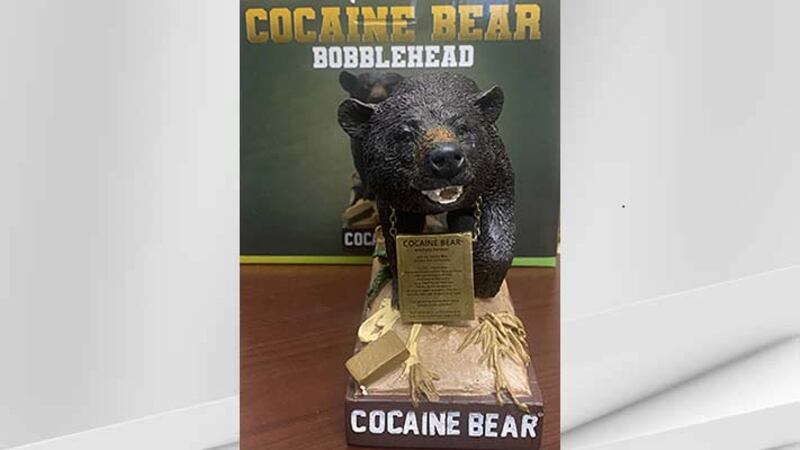 Published: Aug. 22, 2023 at 12:59 PM EDT
LOUISVILLE, Ky. (WAVE) - The now infamous, so-called Cocaine Bear joins the ranks of celebrities, historic figures, and athletes as an official bobblehead.
The National Bobblehead Hall of Fame and Museum - yes, it's a thing - began shipping the licensed statue of "Pablo Escobear" this July. The Cocaine Bear bobblehead depicts the drug-eating animal with a chain around it it's neck explaining part of its story.
The bobblehead was made in conjunction with a souvenir store, the Kentucky for Kentucky Fun Mall. The store located in Lexington, Ky. is credited for helping create the legend of Cocaine Bear which has now been made into a Hollywood film. The Fun Mall is also home to a taxidermized bear, which embodies the animal that died in 1985 after accidentally ingesting a drug smuggler's cocaine.
Although the bear at the Fun Mall is not the actual animal that ate the drugs, as confirmed in the documentary, Blow: The True Story of Cocaine, a Bear and a Crooked Kentucky Cop, people from all over the world continue to visit the store.
The Hollywood movie, Cocaine Bear is inspired by the bear's true story. In 1985, Andrew Thornton, a former narcotics detective with the Lexington Police Department, began throwing duffle bags filled with cocaine out of a plane in a drug smuggling operation.
The duffle bags scattered across the Georgia mountains and parts of Tennessee. One of the bags was found by the bear who died within minutes of ingesting about six grams of the drug.
Thornton attempted to parachute from the plane while holding onto $15 million in cocaine. Thornton crashed onto a man's driveway on Knoxville, Tenn. According to the detectives who worked the case, Thornton's legs were draped over the duffle bag of drugs.
The true story has become a legend in Lexington. Pablo Escobear has gained a cult-like following, enough to become an official member of the Bobblehead Hall of Fame.
The Bobblehead Museum is located in Milwaukee, Wis. The Cocaine Bear Bobblehead is limited edition with only 2,023 units made. For more info on how to purchase one, click here or the Kentucky Fun Mall's website.
The documentary, Blow: The True Story of Cocaine, a Bear and a Crooked Kentucky Cop, is now streaming on Tubi.
Copyright 2023 WAVE. All rights reserved.