Several Bullitt County bus drivers call in because of heat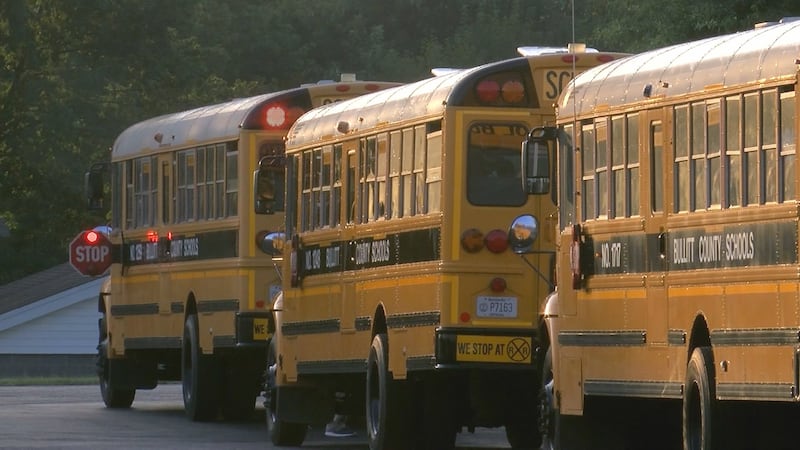 Published: Aug. 25, 2023 at 9:34 PM EDT
LOUISVILLE, Ky. (WAVE) - Several bus drivers for the Bullitt County Schools called in sick on Friday because they felt it was too hot to drive, according to a release.
School officials said more bus drivers called in for the afternoon routes and students who normally rely on these routes had to be self-transported.
In response, the district gave out bottled water to all schools for the afternoon bus riders and drivers, specifically targeting those who may have extended rides home, according to the release.
"While the majority of our students are on the bus for under 15 minutes, offering water certainly helps," Superintendent Dr. Jesse Bacon said. "Our drivers are even being treated to Kona Ice this afternoon as a token of appreciation for the ones who endured the heat this week. It's but a small token of many, but we appreciate them, and we want them to know it."
The district is also doing a video series called Transportation Tuesdays that will share progress and updates every two weeks. For updates on transportation, click or tap here.
After increasing the pay for their bus drivers, the district has found that it has had a positive impact. Officials said the school is in the process of training more drivers as well. Training takes six to eight weeks before a new driver can start transporting students.
The school district also said they are in the process of implementing a new routing software called Transfinder. The software is designed to optimize school transportation, make it more efficient and improve communication.
Officials with the district believe this will lead to transportation being smoother and minimize potential disruptions.
Copyright 2023 WAVE. All rights reserved.