Spectrum customers talk about impact of cable company's dispute with Disney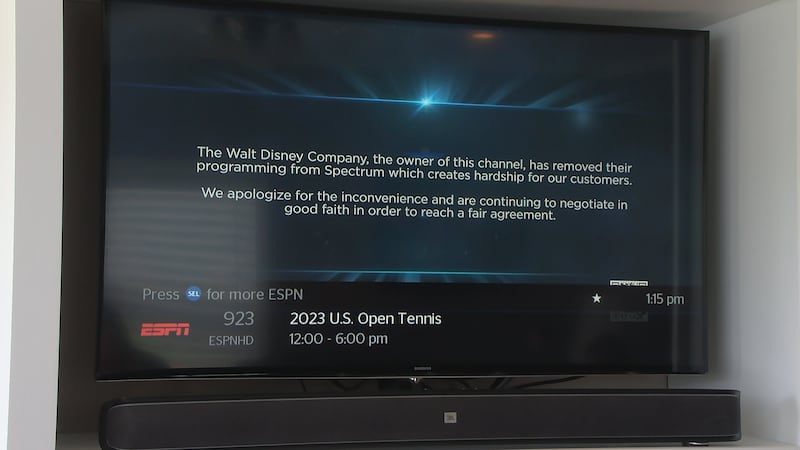 Published: Sep. 2, 2023 at 11:30 AM EDT
LOUISVILLE, Ky. (WAVE) - Football fans who were hoping to tune into a Louisville Cardinal or Kentucky Wildcat game this weekend are in for a rude awakening.
Sports fans have been boiling since Thursday night when Disney pulled the plug on ESPN on Spectrum because contract negotiations are going badly.
The dispute seems to be stressing out a lot of Spectrum customers who rely on their services to watch their favorite sporting events.
So much so, that a lot of folks are ultimately considering leaving the service for good.
Charter Communications, the company that runs Spectrum, said that Disney's new proposal would cause a significant cost increase for subscribers
Disney said in a statement, in part, that the rates and terms they are seeking in this renewal are driven by the marketplace.
Stephen Brian is a longtime UofL football fan, and he said he couldn't wait to watch the Jeff Brohm era kickoff Friday night on ESPN.
However because Charter Communications could not come to an agreement with Disney, all Disney services, including ESPN, are now cut off from Spectrum.
"I was definitely upset," Brian said. "I had gotten up a little early to watch some sports programming but it wasn't on there so I kind of got up for no reason. It's definitely disappointing concerning the amount the cable system costs now."
Costs that Brian said he's seen increase twice in the last year.
So Friday morning, he said he called Spectrum immediately and waited almost 45 minutes until they offered him $15 off per month until the problem is resolved.
However, he still has to find another way to watch the game.
"Well it looks like I'm going to have to find a different place to watch it or just not watch it at all," Brian said. "And I may even check out the radio because, from time to time, I do listen to UofL ball on the radio, so I may have to tune into the radio if I decide to stay home."
Some businesses are suffering the same fate.
O'Shea's Irish Pub said they use Spectrum's services and did not know how they would show the UofL game Friday Night.
Other sports bars WAVE News spoke to, including most downtown, said they don't have spectrum and are expecting a huge turnout for the big game.
For people like Brian, however, this Disney and Spectrum disagreement comes as a major disappointment.
"It's going to be disappointing not being able to see Louisville play, especially on the big show," Brian said.
Both Brian and O'Shea's said they're very much leaning towards switching providers because they don't want to pay for a service they can't get the full benefits from and to avoid extra costs.
"Definitely leaning towards looking at other options now especially since the bill keeps going up," Brian said. "And it makes me wonder that when they do come to an agreement with Disney, are they going to raise my rates again because Disney has acted out and wants more money from Spectrum? So are they going to pass that down to the customer also?"
Copyright 2023 WAVE. All rights reserved.