Troubleshooters: Man arrested at OIS scene was on home incarceration despite recent, long criminal history
Published: Sep. 8, 2023 at 10:22 AM EDT
LOUISVILLE, Ky. (WAVE) - Three arrests have been made after a Louisville Metro police officer was shot in the Chickasaw neighborhood, however, none of the suspects have been charged with the shooting.
On Thursday, detectives were called to investigate an officer-involved shooting in the 4000 block of West Kentucky Street that left an officer in critical condition.
LMPD said around 2:30 a.m., an officer was conducting a traffic stop when multiple shots were fired from a home in the 1000 block of South 40th Street.
A search warrant was executed for the home and investigators seized suspected amounts of heroin, crystal meth, cocaine/fentanyl, ecstasy, Xanax, prescription pills and drug paraphernalia. An arrest citation said investigators also seized nine firearms, four handguns and five rifles, two of which were stolen.
Police arrested 27-year-old Dominique Edward Thompson Jr., 28-year-old Quantez Porter 21-year-old Jemond Groves Jr. and 29-year-old Jacquan Ransom all from Louisville.
(Story continues below)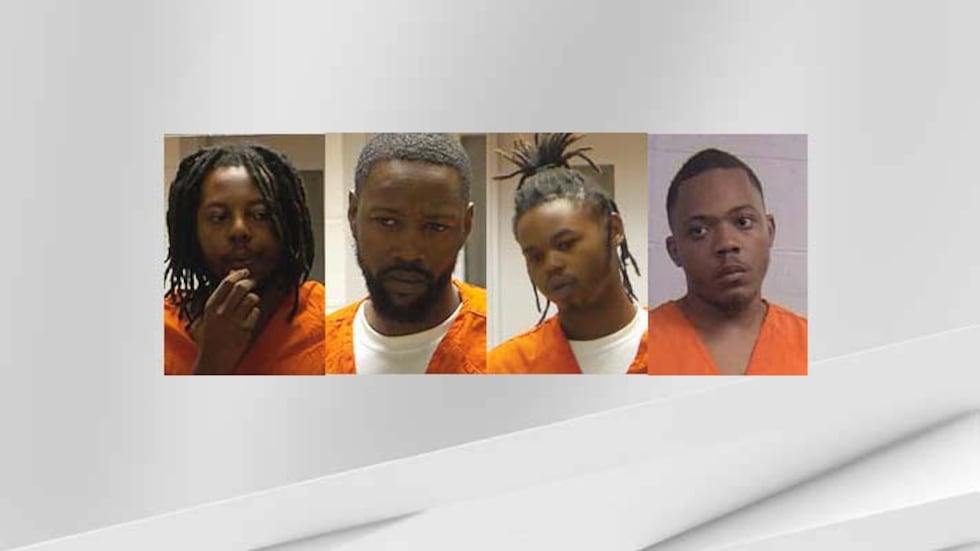 Thompson was arrested for trafficking in meth and heroin, gun possession by a convicted felon, resisting arrest, two counts of having a stolen firearm and tampering with physical evidence.
Porter was charged with enhanced trafficking in heroin and meth, having a stolen firearm and resisting arrest.
Groves was charged with one count of having a stolen firearm.
Ransom was charged with trafficking heroin and meth, possessing a handgun as a convicted felon, resisting arrest and having a stolen firearm.
All four appeared in court Friday morning. Thompson, Porter and Ransom had their bond set at $50,000 and Groves was set at $20,000.
WAVE Troubleshooters learned that one of the suspects, Thompson, had just been let out of jail on home incarceration on multiple felony charges and previous convictions.
Jefferson Circuit Court Judge Patricia "Tish" Morris granted home incarceration on July 24, 2023, court records show.
On June 14, Thompson was arrested by Shively police. Troubleshooter investigation found Thompson had been indicted for fleeing and evading police, receiving stolen property and other traffic citations including driving without a valid license. He was not indicted on possession of having a gun as a convicted felon during the grand jury proceedings.
Thompson was given home incarceration in lieu of a $50,000 bond by Judge Morris.
RELATED STORIES
According to the police records from the June arrest, Thompson was pulled over for speeding on Dixie Highway. When the officer ran a check on the vehicle, he realized it had been reported stolen in Mount Washington in January. The report states Thompson then put the car in drive and took off, almost hitting the officer and his partner.
Troubleshooters also discovered Thompson was already under the supervision of Kentucky Probation and Parole for his previous convictions at the time of the hearing. Shively police had requested an arrest warrant after that incident, which was served by another agency.
Thompson already had a number of previous charges before the run-in with Shively police. Troubleshooters found a previous arrest which had resulted after a traffic stop near 40th Street and Elliott Avenue.
Thompson appeared intoxicated and was slurring his words, the report states. Officers then noticed a gun in the car. The passenger opened the door and ran off on foot. That's when Thompson put the car in gear and fled. At the time of this traffic stop, Thompson was already a convicted felon and was not supposed to have a gun in his possession.
There are a number of previous arrests dating back years. Some were felonies related to drug trafficking and driving under the influence.
Thompson had a pre-trial hearing scheduled for the June arrest on September 20.
Copyright 2023 WAVE. All rights reserved.