LMPD officers save lives with tactical medical techniques
Published: Sep. 21, 2023 at 4:27 PM EDT
|
Updated: Sep. 21, 2023 at 7:18 PM EDT
LOUISVILLE, Ky. (WAVE) - Body camera video released Wednesday by Louisville Metro police shows the moment Officer Brandon Haley was shot. It also shows the work of other officers who kept him alive.
"They did an outstanding job, I couldn't ask for anything better," LMPD Safety Director Todd Richardson said. "They did exactly what they were trying to do. They recognized where the wounds were, they got the clothing off so they could see where the wounds were, they applied the proper techniques, the proper equipment, and they did a rapid transport based on what they saw."
Haley was critically wounded in the chest during the early morning hours of September 7. The shots came from a nearby house while Haley was conducting a traffic stop at 40th and Kentucky.
Haley was dragged to safety by Officer Colin Billotto who applied an adhesive sheet called a chest seal. Developed for military use, Richardson said the chest seal is a quick and simple way to keep a chest wound from filling with air, to keep a lung from collapsing and to save a life.
"It will stick to just about anything," Richardson said. "So, you aim to put it on the wound right in here and put a sticker on it."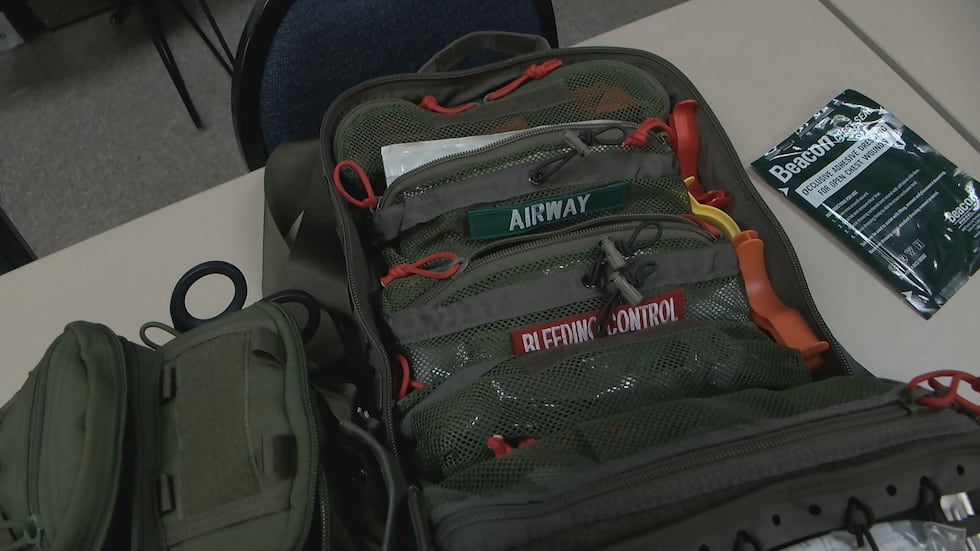 The chest seal is part of a collection of tactical medical materials including tourniquets and packs designed for different wounds. Officers are trained to use them, but Richardson said not every officer carries them.
"Unfortunately, I think some of them may not," Richardson said. "Just because it might be personal preference for some reason. But it is available to everyone of them. And that's what we definitely encourage that every officer carry this with them at all times when they have it."
Fortunately, Officer Billotto was equipped and trained to act.
Officer Haley continues his recovery at UofL Hospital.
Copyright 2023 WAVE. All rights reserved.