Barren Co. High School football welcomes first female kicker in program history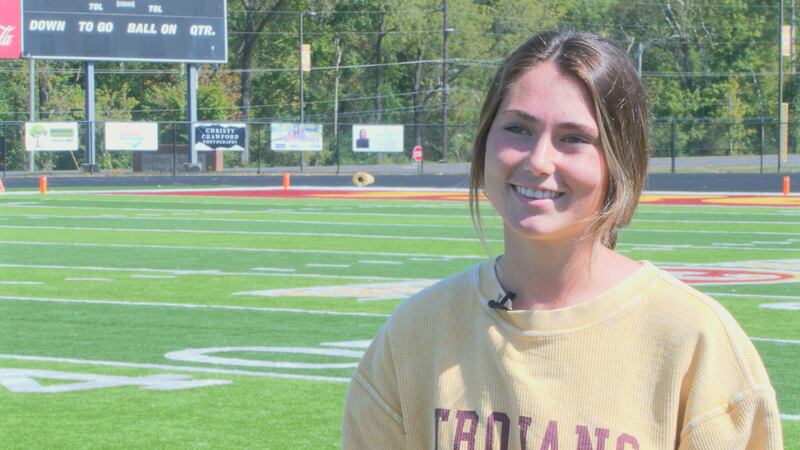 Published: Sep. 22, 2023 at 5:23 PM EDT
BARREN COUNTY, Ky. (WBKO) - Hadley Adams is making history as the first female kicker on the Barren County High School Trojans football team.
While this is her first year with the Trojans, she's no stranger to the field. Adams has played soccer since she was three years old, and that experience did not go unnoticed. Even in her early years, she made a name for herself in the community as a powerful kicker.
"In sixth grade, we had this, it was kind of an elementary school-wide kickball tournament. And the middle school coach was there, and he saw that I could kick the ball pretty far at the kickball tournament, and he was like, 'Yeah, you should really consider playing football.' And I was like, 'Hmm, I've really never thought of that," Adams said.
After that tournament, Adams spent the next three years as the middle school football team's kicker for both the seventh and eighth-grade leagues. Once she entered high school, she was offered a position as the varsity team's kicker as a freshman, though she initially turned down the offer.
"I was just really intimidated by the concept because you know, freshman girl, senior boys. It was scary, so I just kind of put it off," Adams said.
Now in her final year of high school, Adams recognized her opportunity and took it.
"This is something I'm gonna regret if I don't take it, so that's how I decided to do it this one year," she said.
While being the only woman on an all-men team has its challenges, Adams said that the rest of the Trojans have welcomed her with open arms.
"Don't get me wrong, I've been friends with these people since elementary school," Adams said. "So, I mean, they just push me to be the best that I can, just like any other teammate."
Adams has an essential role on the football team, though she still keeps herself busy as a leader for the sport that originally fueled her passion for competition.
"Top priority has always been soccer, so I try to keep that because as a team captain for that. I try to be there and set an example for my team," Adams said. "So, I had a game last night, I had a soccer game on Tuesday, and another soccer game on Monday, so I stay pretty busy."
After her high school career, Adams said that if the opportunity to play either sport in college presents itself, she'll take it, but it won't be her focus.
"I plan on attending the University of Kentucky, majoring in nursing, then later going to anesthesia school and becoming a nurse anesthetist," Adams said.
The Trojans will take on the Green County Dragons for their homecoming game tonight.
Copyright 2023 WBKO. All rights reserved.