Tim Winterholller shares letter addressing the death of his girlfriend Lynnden Bray
Published: Sep. 22, 2023 at 8:33 PM EDT
LOUISVILLE, Ky. (WAVE) - Earlier this summer, 24-year-old Lynnden Bray went missing in the Jefferson Memorial Forest and was later found dead.
Her boyfriend, Tim Winterholler, was at the park with her the day she went missing and was arrested and accused of setting her car on fire.
Speculation later swirled that Winterholler may have had something to do with Lynnden Bray's death, which the coroner ruled a suicide.
On Wednesday, a grand jury found that there was not enough evidence against him and charges were dropped.
WAVE News Reporter Brandon Spencer reached out to Winterholler for an interview, and he initially agreed but when crews arrived, he instead handed them a written letter sharing his thoughts and final word about the death of his girlfriend.
He titled his message "My Side".
He starts off by saying that his words are not about him or about letting his side be heard in response to the slander he said he has seen circulating and said he feels his timeline has been fact-checked by LMPD and a grand jury.
Winterholler said his heart goes out to all impacted, including himself, for the loss the world endured when Lynnden died and said that no one will fully heal.
He asked that hate and negativity be put to the side and hopes everyone will remember Lynnden for her impact, joy and the love she brought to everyone's life.
Winterholler finishes by saying he knows she will continue to do great things through all those she has touched and ended with #CelebrateLynnden.
With this being his only statement on the matter, WAVE News reached out to Bray's mother, Kandy, and read her his note.
While she does believe he is feeling pain, she feels it is through guilt.
"All the greatness that he wrote about, all he did was try to knock that down," Bray said. "So I'm glad that in her death, she is trying now to take the high road."
While she has her doubts, the coroner's report ruled her death as suicide by ligature hanging.
Bray described her daughter's relationship with Winterholler as abusive and there are records that document it and said she doesn't believe her daughter committed suicide.
"I believe that, I know that in my heart," Bray said. "He's responsible, whether he physically did it, he is emotionally and mentally responsible for what happened."
Bray said she hadn't heard from Winterholler at all since her daughter died, so WAVE News asked her what if he did reach out.
Brandon Spencer: "Has he reached out to you and tried and get in contact with you at all?"
Kandy Bray: "No."
Brandon Spencer: "If he did, would you have been willing to listen?"
Kandy Bray: "No, because I don't need to hear what he has to say. I really don't. I know him."
When asked how she thinks she would move on, Bray said she doesn't think that she ever will.
However, she did say she will continue to live hour by hour and day by day until her daughter gets what she feels she deserves, justice.
"Some kind of just justice, just some kind of relief knowing she has some piece of justice," Bray said. "Because she has had none."
LMPD said they're still investigating Bray's death but her mother said she only knows of one witness they've talked to.
As for Winterholler, he said he is going to leave town and find time to grieve on his own.
If you would like to read Winterholler's words verbatim, you can find them below: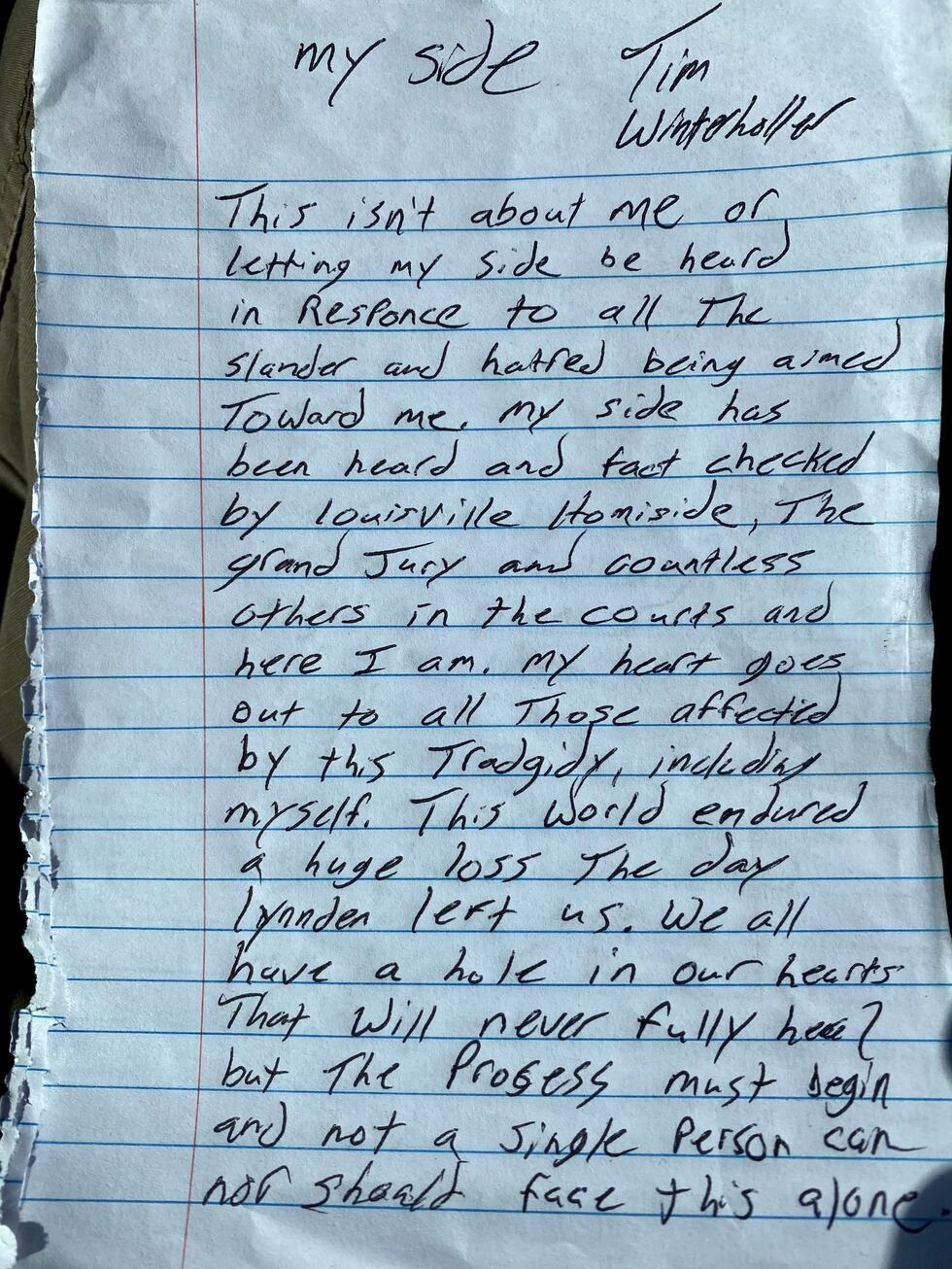 Copyright 2023 WAVE. All rights reserved.