Bone marrow drive shows need for African-American donors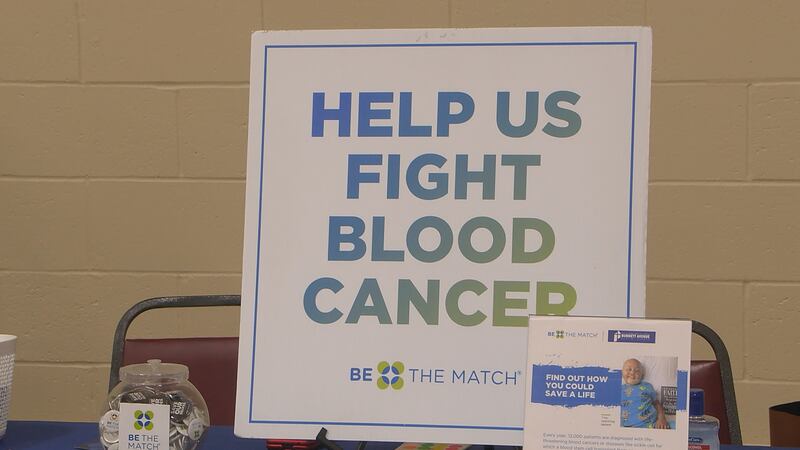 Published: Sep. 24, 2023 at 4:25 PM EDT
LOUISVILLE, Ky. (WAVE) - More than 6,000 people across the United States are currently waiting on a bone marrow donor. This is happening as an organization dedicated to matching patients and donors is trying to address an issue they see on their registry, the lack of African-American donors.
Be the Match helps unrelated patients with blood diseases and cancers find a bone marrow match. Patients who are Black only have a 29 percent chance of finding a donor, according to the organization. At the same time, white patients have a 79 percent chance of finding a match.
"There are certain markings in your DNA that help fight off diseases and infections," Be the Match Member Enrollment Coordinator Danielle Moore said. "When that's compromised you will need to transplant, but it has to be someone that genetically matches you. That's how it works for all patients."
At three years old, Trey Lowman was diagnosed with a rare form of brain cancer called atypical teratoid rhabdoid tumor, or AT/RT. After two brain surgeries, Trey needed a bone marrow transplant, so his family partnered with Be the Match. Even though Trey's latest procedure was successful, his parents want to help other kids like him.
"AT/RT is rampant. It's an aggressive cancer that only children can get," Trey's Father Gregory Lowman Jr. said. "The only way we will give kids a chance to fight it is with funding and people getting tested with Be The Match."
One swab and a few minutes is all it takes to find out if your bone marrow can save a patient's life.
Phillip Meeks knows how it feels to be on the waiting list. In 2012, Meeks was diagnosed with acute myeloid leukemia, which is a type of cancer that starts in the blood-forming cells of the bone marrow. Doctors told Meeks he only had 30 days to live. Then, Meeks connected with Be the Match.
"This organization is what saved my life," Be The Match Volunteer and Donor Recipient Phillip Meeks said. "They found a donor for me. I am a biracial, and my chances of finding a donor were about 20 percent."
Only a fraction of registered people will be matched and become a donor.
Be the Match says they need more people in their database for more opportunities to save someone's life. For more information about becoming a donor, click or tap here.
To support Trey's family and follow his story, visit their GoFundMe or FaceBook page.
Copyright 2023 WAVE. All rights reserved.