Elizabethtown nonprofit donates $8,000 to Officer Wilt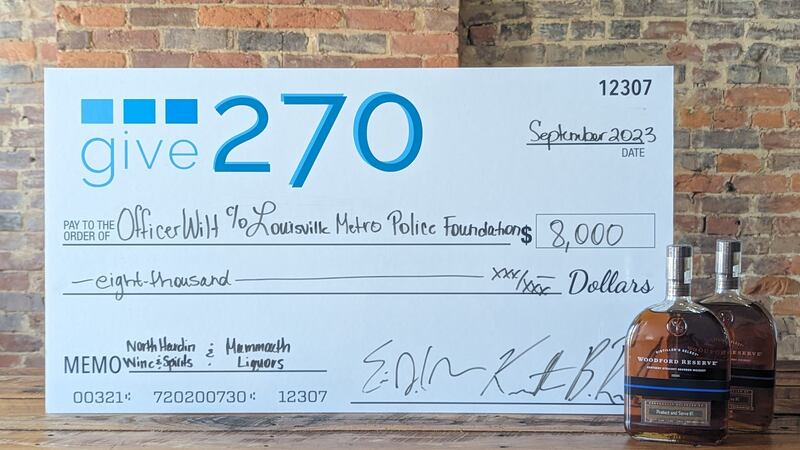 Published: Sep. 25, 2023 at 1:30 PM EDT
ELIZABETHTOWN, Ky. (WAVE) - Elizabethtown-based nonprofit Give 270 donated $8,000 to the Louisville Metro Police Foundation to benefit the family of Officer Nick Wilt.
On his fourth-ever shift with LMPD, Wilt responded to the Old National Bank mass shooting where he was shot in the head and required brain surgery. In July, he was released from the hospital but is still healing.
According to a press release, Give 270, North Hardin Wine & Spirits and Mammoth Liquors collaborated by selling bottles from a Woodford Reserve line of bourbon called Protect and Serve #1 to benefit the Wilt family.
"When we heard about the tragedy back in April and the bravery of the first responders on the scene, we wanted to help in any way we could," North Hardin Wine & Spirits owner Rob Fogle said. "We are grateful to partner with Give 270 to support the family of Officer Wilt, who is a true hero."
Spokesperson Megan Blaney said Give 270, Fogle and Mammoth Liquors store owner Eric Hall partnered together to promote the limited-release bottles, featuring Thin Blue Line decals.
"Officer Wilt's journey to recovery is truly inspiring, and we are honored to contribute to such a worthy cause," Board Chair for Give 270 Eric Clemens said.
Copyright 2023 WAVE. All rights reserved.