Pleasure Ridge Park High School welding teacher surprised with $50,000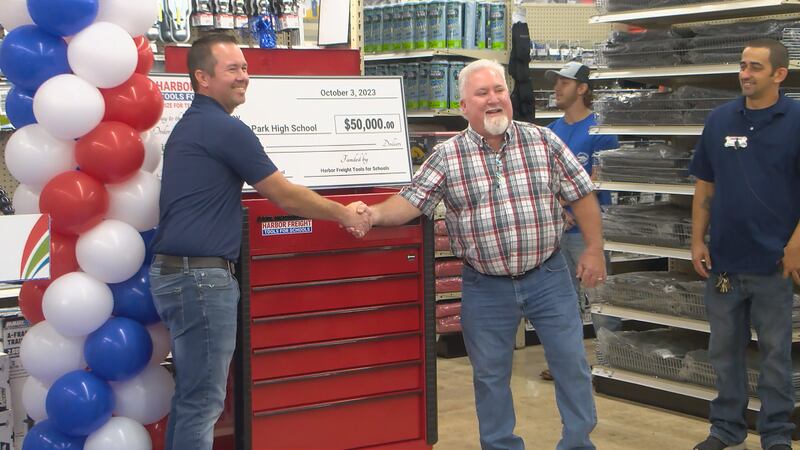 Published: Oct. 3, 2023 at 3:48 PM EDT
LOUISVILLE, Ky. (WAVE) - A Pleasure Ridge Park High School teacher was surprised with a $50,000 award Tuesday thanks to the Harbor Freight Tools for Schools Program.
David McCoy has been PRP High School's welding teacher for six years and has gotten several honors for teaching as well as coordinating the first Kentucky High School Girls in Welding Competition.
In the time he's been at PRP, McCoy has grown the welding program from a single-teacher program to a three-teacher program and now co-teaches with his son. Since beginning the program, it's certified 320 career-ready students and had a 100% certification rate this past year.
McCoy said he's beyond excited for the honor and shared that the money will help expand PRP's welding program even more.
"If you ever came to our shop, if any of y'all have been there, you would know that that whole shop was built by me and our students. Everything," McCoy said. "It was an old girls' locker room, and now it's a full-fledged weld shop. We have 24 welding stations, by the end of this year, I want to have 35 welding stations, and we're talking about a small space. So, that's where $50,000 will give us the opportunity to purchase or do to the changes that we need to do and expand and that's what it's going to help us with."
In total, Harbor Freight Tools for Schools is awarding $1.5 million in prizes to 25 skilled trades teachers nationwide. The winners all teach in a variety of professions including, welding, construction, plumbing and many other skilled trades.
Copyright 2023 WAVE. All rights reserved.