UK's J.J. Weaver named semifinalist for Jason Witten Collegiate Man of the Year Award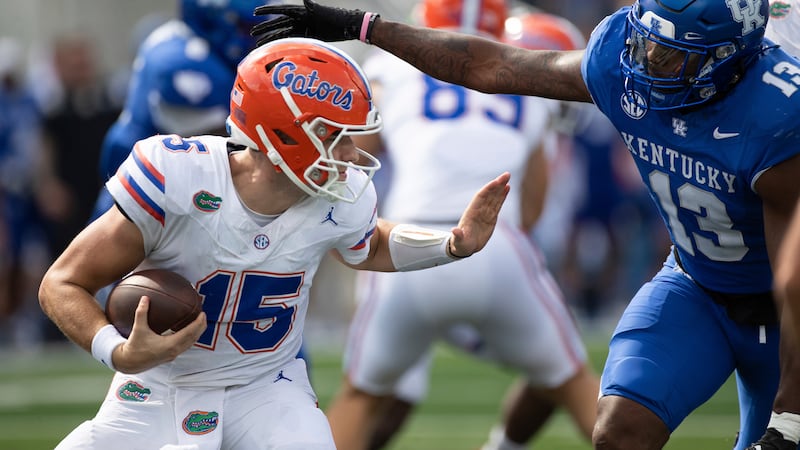 Published: Oct. 18, 2023 at 2:21 PM EDT
LEXINGTON, Ky. (WAVE) - Kentucky senior outside linebacker J.J. Weaver was named as one of 20 semifinalists for the seventh annual Jason Witten Collegiate man of the Year Award.
The award is given to "a player who demonstrates a record of leadership by exhibiting exceptional courage, integrity and sportsmanship both on and off the field."
Weaver, a graduate of Louisville' Marion C. Moore School, has been a veteran leader of the Wildcats' defense this year and has amassed 22 tackles, 3.5 tackles for a loss, two sacks, two pass breakups and a quarterback hurry this year.
While in high school, Weaver started the non-profit organization The Perfect Fit and has organized several projects, including this summer's Perfect Fit Bike Drive, during which he and his family donated 111 free bicycles for kids in Louisville.
From July 2020 to August 2021, Weaver suffered personal tragedies starting with losing his father to homicide. Then Weaver suffered a season-ending knee injury and his high school football coach passed away from cancer.
After being confronted by UK's then-head athletic trainer Gabe Amponsah and a heart-to-heart conversation with head coach Mark Stoops, Weaver agreed to seek counseling for his grief.
Since then, Weaver has become an outspoken advocate for mental health and counseling and this fall, with the help of the Kentucky Center for Grieving Children and Families, he started a peer-led grief counseling group on UK's campus.
Three finalists will be selected for the award on Dec. 13 and the winner will be announced at a ceremony in Frisco, Texas on Feb. 15.
Copyright 2023 WAVE. All rights reserved.