LouCity routs Detroit, earns return to Conference Final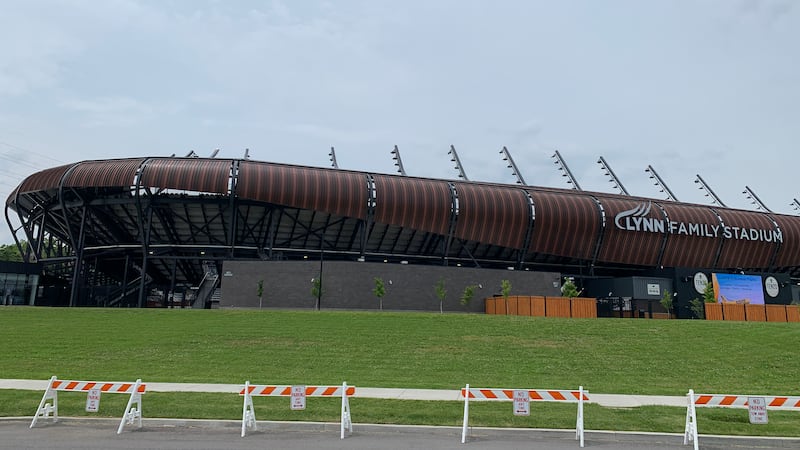 Published: Oct. 29, 2023 at 9:13 AM EDT
LOUISVILLE, Ky. (WAVE) - Louisville City FC on Saturday played its way back into the USL Championship's Eastern Conference Final for a ninth straight season, each year since the club started play in 2015, and did so in style.
Fifth-seeded LouCity blitzed eighth-seeded Detroit City FC by a 4-0 score at Lynn Family Stadium. The victory set up a conference final matchup away to the No. 3 seed Charleston Battery at 7:30 p.m. Saturday, Nov. 4.
Coverage will air locally on WBKI/The CW and ESPN Louisville's 680/105.7 with the club's official watch party at Saint's Pizza & Pub, 131 Breckenridge Ln. USL Championship games also stream live on ESPN+.
"The reason that we've reached [the conference final] for nine straight years is because it's never been the objective," team captain Paolo DelPiccolo said. "The objective is always to win two more games after we reach this game… For us, the goal is always the top, the top, the top."
From here, LouCity is those two wins away from adding to the club's 2017 and 2018 league titles. Next weekend's game also sets up City's Eastern Conference championship defense from 2022.
"First and foremost, I'm extremely proud of the group," coach Danny Cruz said. "Tonight was an amazing night - fantastic for the community, for the fans, for that locker room, for our owners, for everything. [The players] did put it together. They executed the game plan to a T. A lot of guys had some really good performances, and collectively I feel we played as a unit tonight. We have a lot to be proud of, but we've got another game, and that's the focus already."
Brian Ownby (penalty earned, goal and assist) and Cameron Lancaster (two goals and an assist) turned the conference semifinal round into an offensive exhibition. Jorge Gonzalez also chipped in the final goal against Detroit to make it City's highest-scoring game of the season.
It was a performance void of the issues that plagued LouCity during the regular season en route to a fifth-place spot on the table, the lowest in the club's history. Particularly, the boys in purple struggled to finish quality chances, but not Saturday, when eight of their 11 shots were taken inside the box and translated to 2.26 expected goals.
In contrast, Detroit took six shots and totaled only 0.04 expected goals. City registered its first clean sheet in eight games, since a Sept. 16 victory over San Diego Loyal SC.
"I've been frustrated, and I think we could have done stuff better," DelPiccolo said of the year. "But all season, and I've said it in the media throughout the season, the quality's there. This is football. Things aren't always perfect. Tonight, things went our way."
LouCity scored twice in both halves, with Ownby or Lancaster involved in each of those strikes. Ownby got through the Detroit defense to earn an early penalty, netted by Lancaster in the 15th minute, then the winger buried a 43rd-minute chance after Detroit failed to clear a corner.
City's second-half goals came in quick succession. Ownby got to the end line in the 59th minute before Lancaster chested in a goal at the back post. Seconds later, Gonzalez was played through after Lancaster dispossessed Detroit in its own half, with the Spaniard chipping the goalkeeper to cap the scoring.
And so it begged the question: Is LouCity peaking at the right time?
"I hope we have more if that's the case," Ownby said. "You always want to start peaking in the playoffs, going into the playoffs, and for us it's just putting together a good performance, working in training and putting another good one in next weekend. [Charleston is] a good team. I think they were at the top of our conference for the majority of the year. We'll obviously watch some film and scout them. We have full faith in the staff. They do a great job of preparing the players. But for us, we want to handle it ourselves. We focus on ourselves — get some recovery, good training next week and we obviously have to go there to a hostile environment. For us, it's enjoy tonight and really start to focus because we're not done yet."
Copyright 2023 WAVE. All rights reserved.