Cardinals drop final exhibition game to Kentucky Wesleyan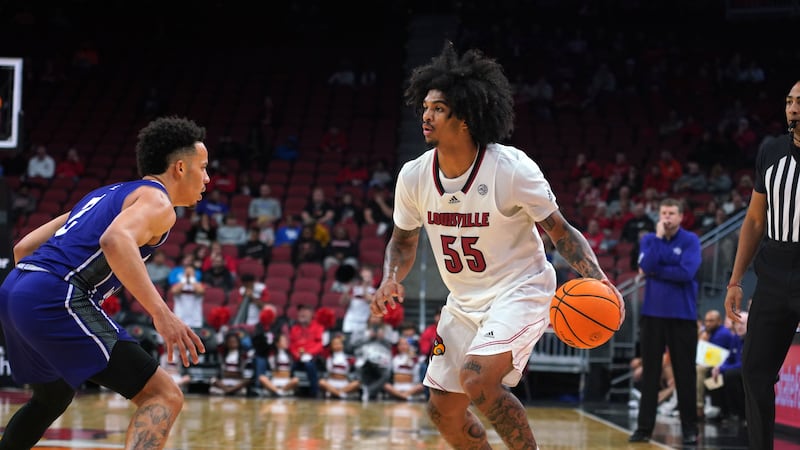 Published: Oct. 30, 2023 at 11:05 PM EDT
LOUISVILLE, Ky. (WAVE) - The University of Louisville men's basketball team will be heading into the regular season on a sour note after dropping its final exhibition game 71-68 to Kentucky Wesleyan.
The Panthers outrebounded the Cardinals 47-33 overall and it was a 16-5 margin for offensive rebounds. For UofL head coach Kenny Payne, that was the most disappointing part of Monday's loss.
"They were more physical than us," he said. "That's obvious from the 47-33 rebound. We seemed to just ball-watch, which we talked about, and they attacked the ball… I watch 8-10 points, maybe more, where the shot was made by them and our guys were watching and hoping the next guy got it. They bum-rushed the ball."
Senior forward JJ Traynor said it simply came down to hustle.
"A lot of them were long rebounds because they shot a lot of threes and they were just fighting for it, diving for them and going after loose balls and we didn't."
Payne said that the effort differential in that game showed a disconnect that he's seeing with his team.
"The disconnect is understanding fully how hard you have to practice and how hard you have to play and how desperately you have to play defensively," he said. "Other teams are good. I knew this would be a tough game and we needed it to be a tough game."
It was a team effort for the Panthers as no one player had double-digit rebounds, but four different players had at least six and everybody who got minutes had at least one. Guards Tre White and Skyy Clark led the Cardinals with seven boards each.
For Payne, it comes down to a simple question.
"Are you really going to beat teams with talent or are you going to beat them with work ethic?"
Offensively the Cardinals couldn't find a rhythm, shooting 34% from the field and 26.3% from three. Payne said he felt like they settled for jumpers instead of getting paint touches and that it caused the offense to go stagnant.
"We refused to get paint touches and at times there were opportunities there," he said. "The bigs didn't touch the ball a lot and what was happening was we were setting screens and the defender was going under the screen. We have to force people to go over the top…especially when we're missing jump shots. We're playing into their hands.
"We're a good shooting team. We're much better than we shot tonight," he added. "I know that, but I also know if you live by the three and by jump shots and you don't screen for each other and you're not moving you're going to have times when the ball's not going in the hole. Then the other team gets confident."
It isn't the result the Cardinals were wanting heading into next Monday's season-opener against UMBC, but they're hoping it's the kind of game that'll help them when the results count.
"It doesn't count, thankfully. It's good to get hit in the mouth early because now we know what it is," Traynor said. "We have a lot of freshmen and guys who don't have a lot of experience. Now we know what we need to work on and improve on."
"They feel down. They're learning that you have to play hard and understand that other teams and other players, regardless of Division-I or Division-II, they can play. Other guys can play," Payne said. "They're understanding about concepts and basketball offensively. They're learning on the fly what it means to have four guys on the same page and one not reacting to it. Someone's going to get burned. Little things mean a lot."
Louisville hosts the Retrievers Monday, Nov. 6. Tip-off is at 7 p.m.
Copyright 2023 WAVE. All rights reserved.