WAVE Winter Forecast 2023-2024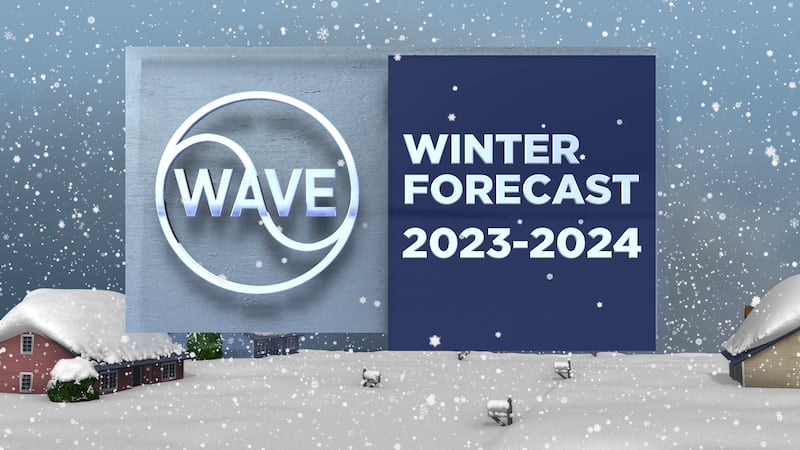 Updated: Oct. 31, 2023 at 8:11 PM EDT
LOUISVILLE, Ky. (WAVE) -
INTRO
This year certainly will have different patterns involved that will make it more of a 'whiplash' type of winter some back-and-forth action. However, finding cold air to reach our area will be one of the bigger challenges we will face. While El Niño will play a fairly large part in the outlook, we do feel other influences will be involved to shake up the pattern at times. It is also the reason we are not going to rely heavily on analog years (patterns of the past) given several current anomalies that are taking place on the globe compared to those analogs.
TECHNICAL DISCUSSION
Tracking the subtropical jet (thanks to El Niño) across the southern US is going to be tough. It can be our friend and can work against us. When it becomes active with showers and thunderstorms, there is a good chance that moisture feed will be blocked heading north into our area...keeping it dry at times. The blocking in the Atlantic to get us to a -NAO (North Atlantic Oscillation) would be a setup to watch to allow for a low pressure to actually slow and turn north. If that happens too fast, we will be on the rainy/thunderstorm side. If it delays that turn east of I-65, we could find ourselves into a deformation zone (NW side of a low pressure system) setup for a band of snow. And of course, if it turns too far east...we are missed completely. Given the pattern as of late, we think all three setups will get witnessed this season.
But that is just storm tracks. What about the cold? You can't get the snow without that nugget of influence. This is the part that is concerning with the winter outlook. We are experiencing a top 5 lowest level of Arctic Sea Ice. That is causing way more problems than just a challenge in a winter forecast. The lack of ice means it will take longer to build it back up to be a cold source region. A theory of why many of our winter lately have been more "delayed". The sea ice recovery over the next few weeks will be key on the longer term.
So where is the core of the cold now? It is building now over the Arctic and Siberia. It is that area in Russia that looks to hold the key on being our source for cold air from that snowpack to get shifted over the pole into our area. That potential cold flow from the snow pack would be aided by the behavior of the Polar Vortex. We can track the reversal of the wind in the North Pole roughly two weeks out to get an idea if the cold is on the move. In some cases, the Polar Vortex would get displaced and shift to either Europe or North America. Sometimes it will split and try to impact both on a smaller scale. Or, perhaps more commonly , it will simply stretch-out for about a 7 day period to allow cold air to slide over the pole right into our region.
That last idea, the stretching of the Polar Vortex, seems to be the most likely setup this winter.
So we know the moisture source from the subtropical jet (El Niño), we know where the cold sources will be and the paths they can take to get here. Now we need to know the HOW?! That my friends, is going to the hard to gauge in advance. As stated above, it can be picked up roughly 10 days in advance which is helpful but the blocking of the jet patterns is key on how we can line up the cold with the moisture. Think of when you place a rock into a small stream. The water flow changes. We see the same with our atmosphere which is why we call the jet streams "atmosphere rivers". They flow just the same all around the globe. If something disrupts it, the course can change and those changes can mean significant weather and impacts for us at the ground level.
Just remember, two weeks out is key on tracking the winter fun and games. And that will be the job of the WAVE Weather SNOWTALK! BLOG that will go LIVE each day with a look at those potential signs.
So you may be asking, "Why isn't the winter forecast just two weeks then?" "Why are we forecasting all the way into March?" That is a much more complex question to answer. Weather patterns like to repeat. We are learning more and more about those repeating cycles and there is growing support that we can pick out a storm that could repeat itself again in our areas weeks or even months out in advance. This theory is still being tested to this day but even from the data gathered so far in the past three years, repeating patterns are becoming easier to sniff out. We will be applying that to our outlooks to try to gauge when a stormier setup could take place. Just keep in mind it is a repeating system doesn't always mean snow. The temperature setup across the region will determine if its journey will be one with rain or something more on the wintry side.
Our hypothesis is that dry weather is a real concern if the jet stream blocks the moisture to our south. The amount of cold air that can dive our way will depend on how much snow gets on the ground to our north to reduce the friction...which modifies or "warms" the air as it makes its journey south.
Fast-moving clippers (small low pressures that drop down from Canada) and backlash light snow events will be the most common this season given the storm tracks and lack of moisture. So yes, there will be some snow on the ground at times but its lasting power is likely to be limited. The bigger snow ideas will likely come from the deformation zones of low pressure that move just to our southeast and that is where we plan to highlight the greater potential for bigger wintry events. Getting a big snow in our area is actually rare, but they certainly stay in our memory banks for a long time. Hang in there BOTS (Bring On The Snow) fans....those tracks can be frustrating when they don't line up for a good snow.
THE MAPS
Severe thunderstorms and heavy rain events look to be more elevated this season with the subtropical jet in place across the Deep South. Even a few early season fading tropical systems could get involved. We did account for some strong thunderstorm potential into at least Western Kentucky due to the risk for cutting low pressure to the north.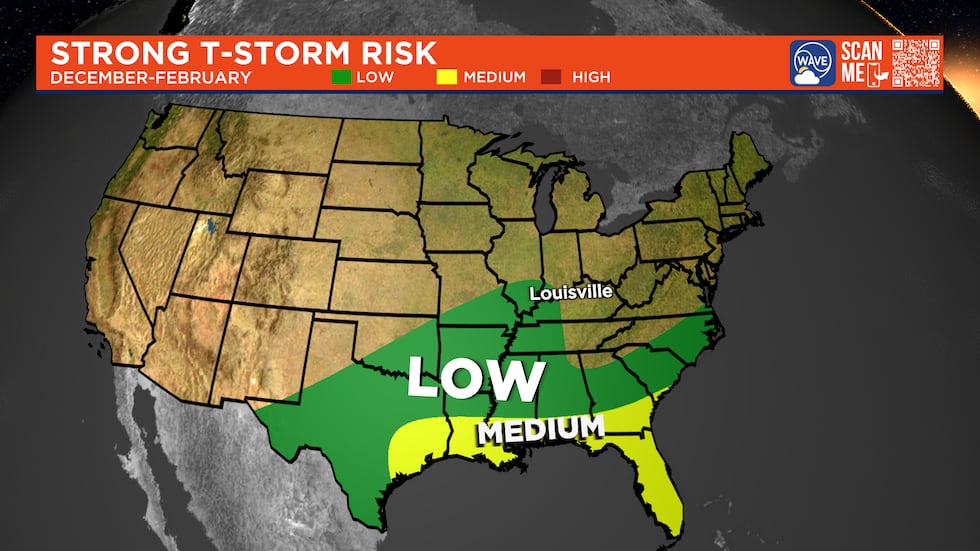 As mentioned above, the storm tracks will be key on how the moisture and cold interact and how the rain/snow is distributed. Listed below are the possible tracks that could take place over the season with a mix of clippers to southern trackers that we will have to watch carefully. The Mid-Atlantic part of the country looks to be in a good spot for active weather this season.
Temperatures overall look warm (compared to local averages) however, the abundance of clouds and storminess to the south is likely to leave to cooler numbers for that area.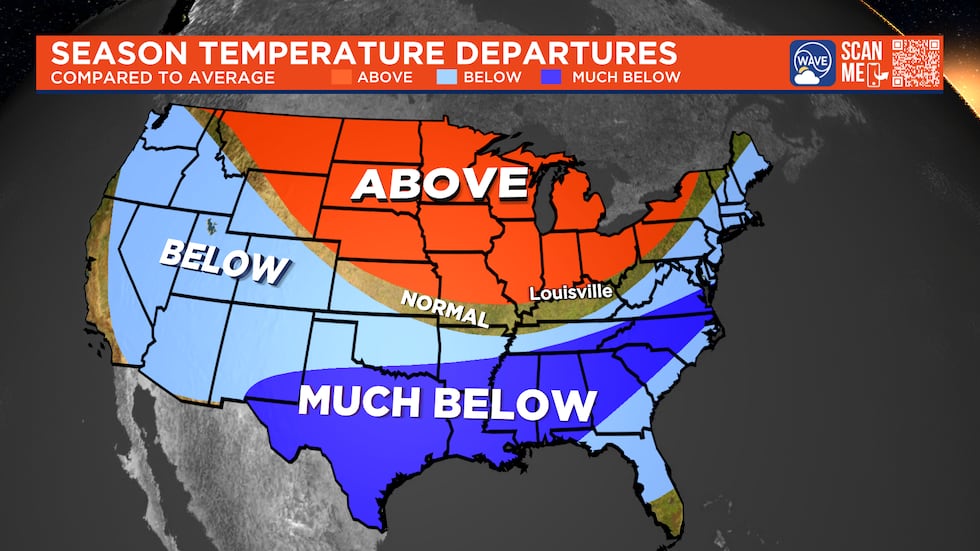 This graphic is certainly more for entertainment than anything. We wanted to at least take a stab at where the potential for winter storms could take place. The Deep South could get some nice surprises with the cold air attacks that may merge with one or two of those low pressure. Yes, our zone was at least included into that idea but the more north you go, that risk looks to fade. The front-range of the Rockies could get a few decent storms and the Mid-Atlantic, again, could get in a good spot with a few nor'easters that could develop.
Below is a new graphic that we thought would be fun to track. The risk for wintry weather as the the season wears on. I think it will be hit-or-miss for the start of the season with perhaps some measurable snow at times. But once we build up the snow pack over Eurasia and over Canada, our wintry fun should increase. Remember, wintry could mean snow or ice.
WINTER FORECAST 2023-2024
We have had some good forecasts for several years, but admittedly, last year was a bust. Winter was only one week long in December as the Polar Vortex shifted when the higher sun angle was taking place during the spring...which was chilly but too later for wintry impacts in our area.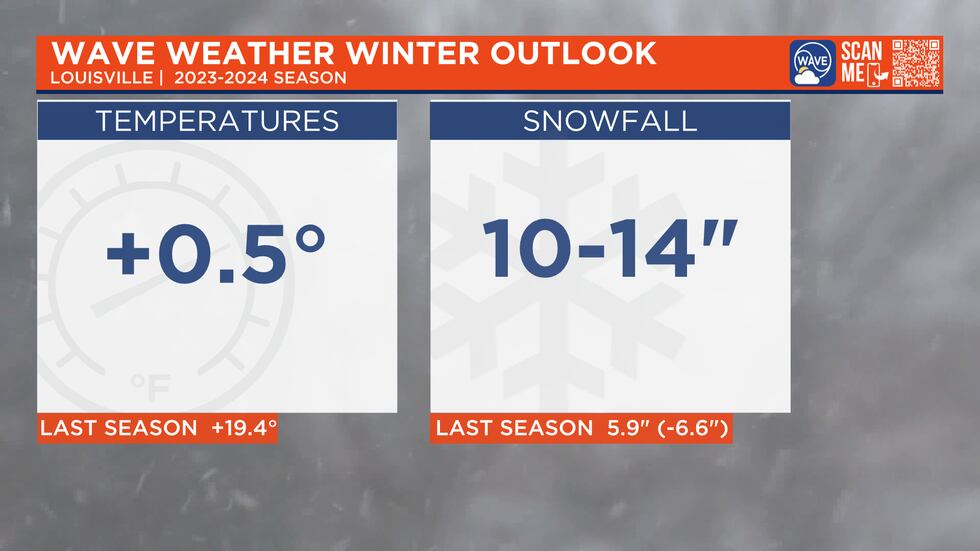 This year will be different than the last several years. Our plan is to deviate some from the typical El Niño pattern as that will be be big player, but not the only one. We do know as the source regions for moisture and cold will be different and certainly more of a challenge to get them to meet up over us. The idea is for several periods of dry weather that will shift to backlash snow events and/or clippers of lighter snow at times. Again, some of that action can put a coating on the ground. It appears a colder setup will develop once we experience some of the stretching of the Polar Vortex across the North Pole. When that happens cannot be seen until it is within a two week window. The snow forecast is for amount near normal, which is 12.5″ for Louisville.
Temperatures should be near or above normal when you look at the overall winter. Cold snaps and Arctic Outbreaks can happen, but the repeating cycle also suggests warm spells could rapidly move in which will likely balance out the temperature averages.
So hang in there snow lovers, it could be an emotional roller coaster at times but we do think we will have some very interesting setups this winter that we haven't experienced in years as we are entering of period of some rather interesting "unknowns" during a strong El Niño season.
We just have to be on the lookout for them.
WAVE WEATHER TEAM GUESES
As always, we like to share our guesses for the FIRST ONE INCH of snowfall at Ali International here in Louisville.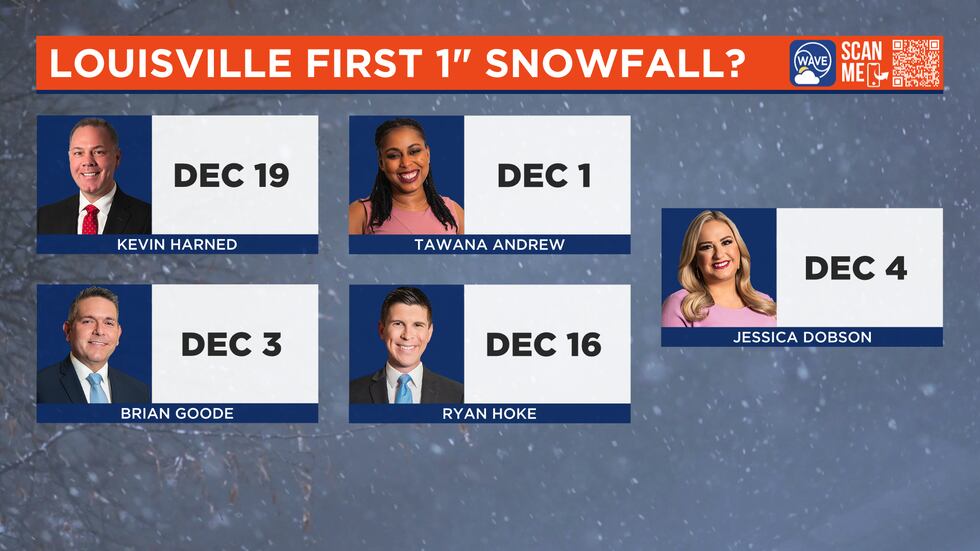 When do YOU think we will reach that moment? Put your guess in the comments!
Copyright 2023 WAVE. All rights reserved.