Clark Co. boy gets letter from the White House on his birthday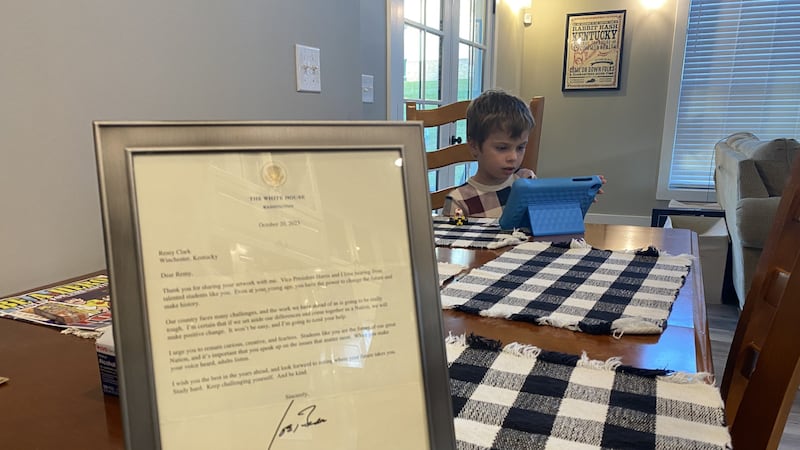 Published: Nov. 6, 2023 at 11:12 PM EST
WINCHESTER, Ky. (WKYT) - A Winchester family got a presidential surprise on November 1, and it all stemmed from a single drawing.
Remy Clark's wishes all came true on his seventh birthday, from Lego sets to action figures to books.
"I also got a new GameBoy!" said Remy.
But there was one gift still left for Remy - one his parents couldn't have possibly imagined.
"It was the coolest coincidence ever," said Ryan Clark, Remy's father.
A first grader at Strode Station Elementary School in Clark County, Ryan says Remy started to learn about the presidents a couple months ago.
"So, he wanted to draw a picture of Joe Biden," Ryan said, and that's exactly what he did.
Knowing Remy was proud of his artwork, his dad decided they should send it off to the president himself.
"And I was like how can we do that? I don't get it," Remy said.
At least, it was a learning opportunity for Remy about how to write and mail a letter.
"It was a while ago, and I think we kind of both forgot about it," said Ryan. "Until his seventh birthday was Wednesday, November 1st."
But it turned into so much more when the Clark's checked their mailbox after school.
"I checked it and I saw he had a letter from the White House," Ryan said.
"Literally, my brain just exploded," Remy said in response.
"You have the power to change the future and make history," it read.
It was an inspiring message, but Remy did have one small critique.
"At the end it should say 'Love, Joe Biden,' like all the notes say that," said Remy.
But Remy's still hoping to keep their correspondence going - and take a trip to the White House too.
"We didn't make it yet, but one day we will," said Remy.
Copyright 2023 WKYT. All rights reserved.