Coroner identifies UPS driver killed in backup of crash involving ISP trooper, suspect arrested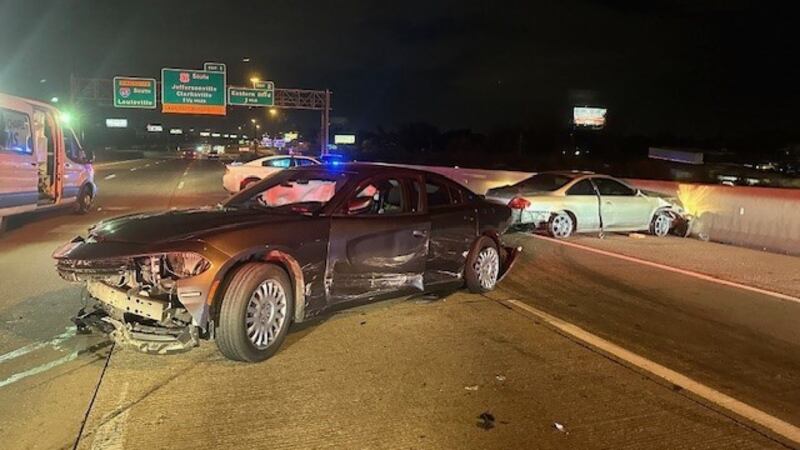 Published: Nov. 7, 2023 at 5:42 AM EST
|
Updated: Nov. 8, 2023 at 5:39 PM EST
CLARKSVILLE, Ind. (WAVE) - A UPS semi-truck driver is dead after a crash Tuesday morning near Clarksville.
Crews were called to the fire between Eastern Boulevard and Veterans Parkway. All lanes in this area are back open.
The Indiana State Police (ISP) said a police chase out of Scott County happened earlier that morning, reaching speeds of 120 MPH. This chase did not involve the UPS truck.
It came all the way down to Clark County and officers used stop sticks to stop the driver. However, those sticks barely slowed the driver down.
ISP then tried to use a pit maneuver to get the driver to stop. Instead, the driver hit the ISP trooper, causing a crash.
The trooper, Justin Mears, was taken to UofL Hospital for a head injury and has since been released.
After the crash, the driver of the vehicle, 27-year-old Dylin Lee Taylor of Charlestown, got out and started to run. He was then caught and taken into custody.
Then during the investigation of the ISP trooper crash, a backup had begun on I-65 South.
There was a UPS semi-truck in that backup. Another semi-truck came up on the first one, didn't see they were stopped, and slammed into the back of it.
The semi-truck driver that hit the first truck was killed. There was a passenger in the sleeper cab of that truck as well. They were also injured and taken to UofL Hospital. They're expected to survive.
The driver of the UPS semi-truck who died was identified as 25-year-old Patrick Dene Harvey of Brownsburg, Indiana, according to officials.
Both the pursuit and the fatal crash are still under investigation.
Taylor is currently charged with the following:
Battery with bodily injury to a public safety officer - Level 5 Felony

Neglect of a dependent resulting in bodily injury - Level 5 Felony

Resisting law enforcement with a vehicle and causing serious bodily injury - Level 5 Felony

Battery by means of a deadly weapon - Level 5 Felony

Criminal recklessness with aggressive driving - Level 6 Felony

Resisting law enforcement with vehicle - Level 6 Felony

Resisting law enforcement - A Misdemeanor

Reckless driving causing bodily injury - A Misdemeanor

Driving while suspended - A Misdemeanor

Criminal recklessness - B Misdemeanor
Copyright 2023 WAVE. All rights reserved.