Decision 2023: Andy Beshear re-elected for second term as Kentucky governor
Published: Nov. 7, 2023 at 8:45 PM EST
LOUISVILLE, Ky. (WAVE) - Democratic nominee and incumbent Andy Beshear was declared the winner in the 2023 race for Kentucky governor.
Beshear will serve his second term alongside Lt. Gov. Jacqueline Coleman (D).
"Tonight, Kentucky made a choice," Beshear said during his victory speech. "A choice not to move to the right or the left, but a choice to move forward for every single family."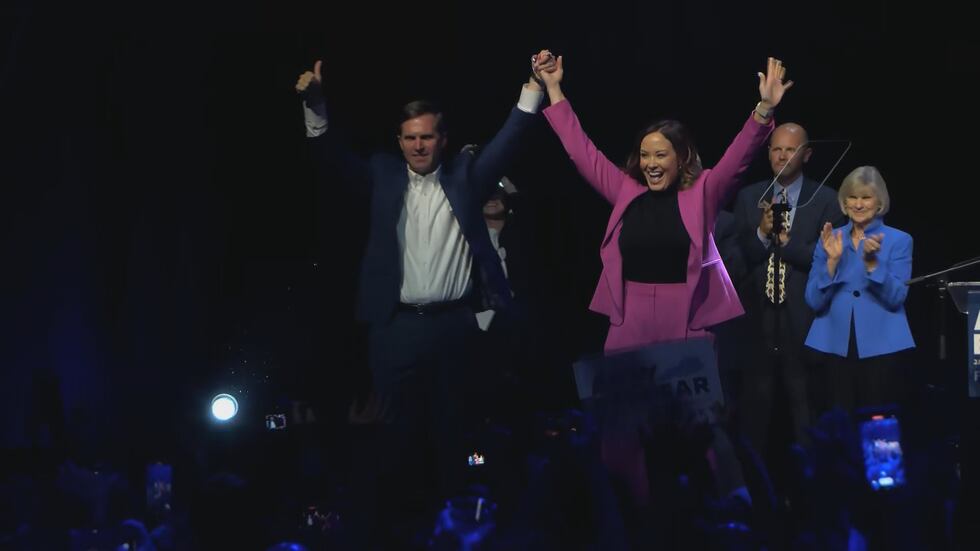 Behear's win on Tuesday made him the third two-consecutive-term governor in Kentucky history.
"But folks," he said. "This wasn't my win. This was our victory...This election shows who we are as Kentuckians. We are proud people who take care of each other. We believe in the Golden Rule that says we love our neighbor as ourselves. And the parable of a good Samaritan that says we are all each other's neighbors, no exceptions."
"Kentucky is on a historic win streak," Beshear said. "The two best years of economic development in the history of the Commonwealth of Kentucky."
Before serving as the 63rd governor, Beshear, the son of former governor Steve Beshear, served as the 50th attorney general of Kentucky from 2016 to 2019.
"My pledge tonight," he said. "To continue to be a governor who serves all people, regardless of your party and regardless of who you voted for. These next four years we have an opportunity. An opportunity to come further together. This is our chance to build that commonwealth we have always dreamed of. To stop the fighting, to push away the division. To recognize that we have more that unites us, than can ever pull us apart and the opportunity right in front of us is more promising than at any time in our lifetimes."
Beshear faced off against republican candidate Daniel Cameron.
It has been such an honor to run as the Republican nominee for governor," Cameron said while delivering his concession speech. "And to run alongside someone who is the pride of Henderson County and the best-dressed man I know."
Cameron thanked his running mate, Sen. Robby Mills as well as his wife, who is expecting their second child in the spring.
"This [campaign] was about future generations," Cameron said. "And as I called the governor to congratulate him, I know from his perspective and from all of our perspectives that we all want the same thing for future generations - we want a better commonwealth. One in which it can ultimately be a shining city on a hill, a model and example for the rest of the nation to follow."
Watch Cameron's full concession speech below.
Copyright 2023 WAVE. All rights reserved.