Ky. Secretary of State seeking better election funding, early voting expansion in second term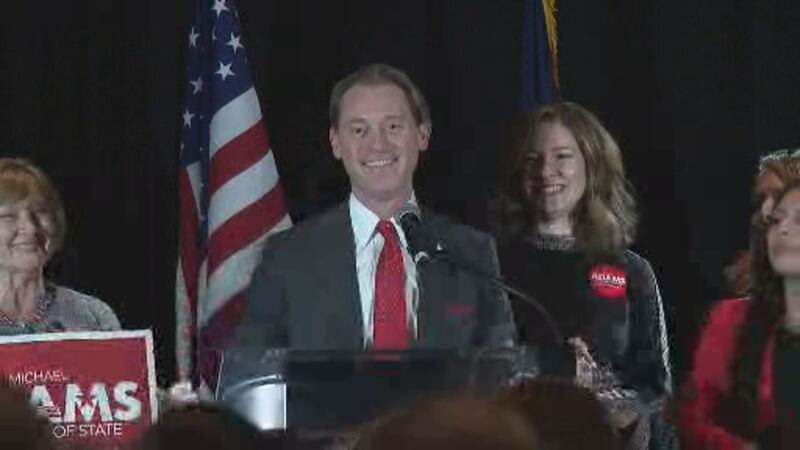 Published: Nov. 8, 2023 at 10:59 PM EST
LEXINGTON, Ky. (WKYT) - Secretary of State Michael Adams says this Election Day was the smoothest he's overseen since he took office.
"I was very pleased," said Adams. "No reports of long lines that we had a year ago."
Adams says that was aided by 260,000 voters opting to line up early, and a push from the gubernatorial candidates.
"I made a point to personally ask both Governor Beshear and Attorney General Cameron to promote early voting among their supporters, and they both took me up on that," Adams said.
His efforts to reach across the aisle through his office were also present in his campaign, as the incumbent republican sought re-election.
"I had a bit of a risky strategy by going to Democrats and independents, who weren't necessarily voting at the top of a ticket for a Republican," said Adams.
But Adams was rewarded for it, tallying more votes than any other candidate on the ticket.
"There's always the risk that your own side will punish you for being kind to the other side," Adams said. "But I think we disproved that."
Adams' focus now turns towards 2024, with his sights set on securing more funding for county clerks, while also making sure it is tied to performance.
"We need to pay the counties based on how many voters they have, instead of how many precincts they have," said Adams. "Because they can artificially inflate the number of precincts, and then you have disparity in election funding."
He also says polling places across the commonwealth will have to handle a much higher turnout.
"We typically have 60% turnout in a presidential election," Adams said. "Yesterday we were about 38%, might hit 40. It's just a different animal."
So Adams wants to continue promoting early voting, possibly with the use of paid advertisements, and help bring Kentuckians another smooth experience at the polls a year from now.
"The whole point of my providing early voting to the people of Kentucky is to give them choices," said Adams. "But it is also helpful to me, to those voters and to all the voters, to the poll workers, to the county clerks, so we don't have three days of crickets and then one day of big crowds."
Copyright 2023 WKYT. All rights reserved.