Congressman Morgan McGarvey meets with veterans ahead of Veteran's Day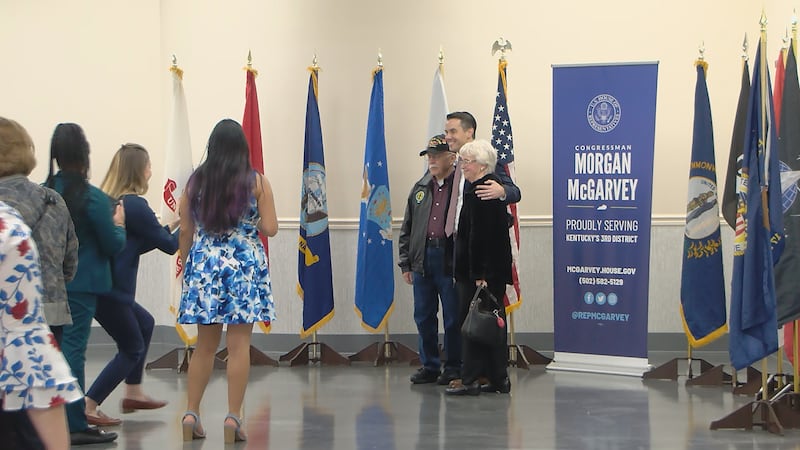 Published: Nov. 10, 2023 at 5:11 PM EST
LOUISVILLE, Ky. (WAVE) - Just one day after announcing his re-election campaign, Congressman Morgan McGarvey hosted veterans and their loved ones for a breakfast and a Q&A.
Each veteran, or loved one of a fallen veteran received a congressional recognition for their service.
Veterans like Gerald McPherson spoke up about the problems they are facing as veterans.
From education and housing to health care, McPherson said veterans haven't always gotten what he feels they deserve.
McPherson is a Vietnam Veteran who said he felt like a pariah when he returned home.
McPherson and other veterans asked McGarvey about what the federal government can do to help.
Friday's event was also a chance for the veterans to be in the same room with so many people with shared experiences.
"It's just a joy to see the reunion of the old soldiers," said McPherson, "but it's [also] a joy to communicate and fellowship with other soldiers, Army, Navy, Air Force, Marines, and Coast Guard."
McGarvey discussed with veterans the new VA hospital being built in Louisville, saying it's moving along and he's trying to make sure it stays on track.
It was supposed to be a four year project, but with supply chain issues and other pandemic related problems, now it's more like five.
Representative McGarvey introduced a veteran education bill to congress in June. It passed the house unanimously and awaits its fate in the senate.
Copyright 2023 WAVE. All rights reserved.