'It's not over yet': KDF officials expect wildfires to continue next week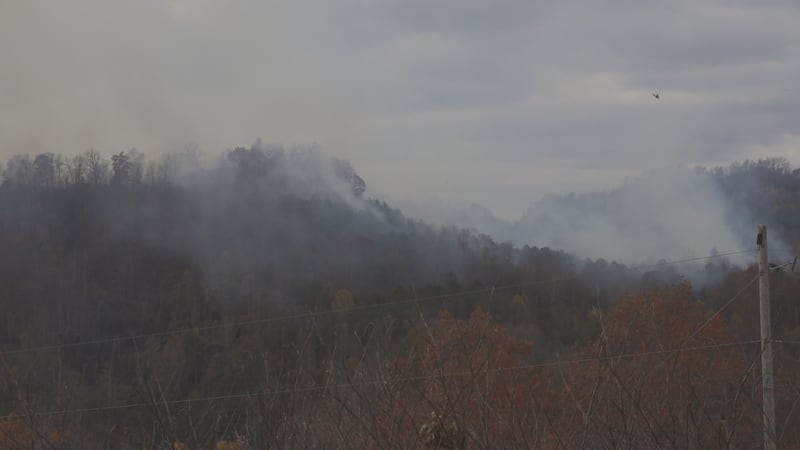 Published: Nov. 10, 2023 at 10:46 AM EST
|
Updated: Nov. 10, 2023 at 7:00 PM EST
HAZARD, Ky. (WYMT) - Several counties in Eastern Kentucky saw rain on Friday. However, Kentucky Division of Forestry officials said they do not think it was enough.
Wildfire Mitigation Specialist with KDF Kessley Baker said we will need a lot more rain for the problem to resolve.
Total burn bans remain in effect in several counties and out-of-state crews are still on their way to help.
"We do expect the humidity level to drop next week. So, you know it only takes a few hours of sunshine for leaves and fine fuels to dry out. So, this rain will give us a good head start for next week, but we are still staying cautious and getting prepared," said Baker.
Governor Andy Beshear declared a state of emergency on Thursday afternoon.
Baker added that she hoped that helped people understand the severity of the situation because conditions are expected to remain rough next week.
"It is still important to follow fire restrictions and county burn bans," she said. "It's not over yet. It's going to take a really good soaking."
As of Friday morning, 20,056 acres have burned in the last week.
Here is a list of communities with current total burn bans:
Clay County
Magoffin County
Knox County
Morgan County
Whitley County
Johnson County
Lawrence County
Floyd County
Pike County
Letcher County (Local State of Emergency)
Knott County
Harlan County (Local State of Emergency)
Every other Kentucky county is under a burn ban from 6 p.m. to 6 a.m. until December 15.
Click here for more information on air quality in counties across the state.
Click here for more information on active and contained fires across the state.
Copyright 2023 WYMT. All rights reserved.