Meteorologist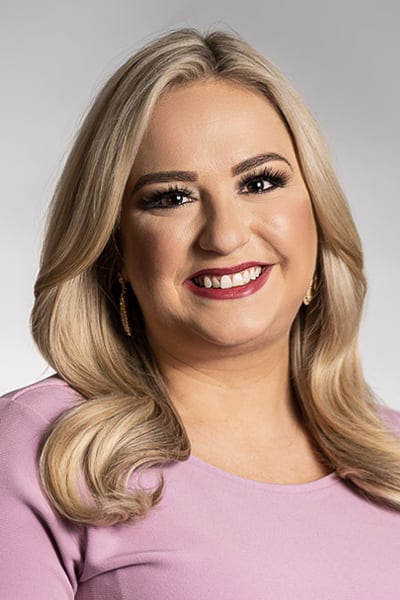 Jessica Dobson is so excited to be back home in Kentucky and to be a part of the WAVE Storm Tracking Team! Jessica joined the team in January 2022 and you can catch her forecasts on Weekend Sunrise.
Jessica is a Louisville, KY native and has had a fascination for weather for as long as she can remember. She attended and graduated from Seneca High School and then Western Kentucky University where she was chosen to participate in the award-winning Field Methods in Weather Analysis and Forecasting class. This class gave Jessica the chance to forecast severe convective weather and storm chase across the country two years in a row. While storm chasing, Jessica and her classmates chased and documented over 20 tornadoes and countless storms.
When she wasn't studying and chasing storms, you could also find Jessica at dance team practice for the WKU Topperettes. Jessica was a member of the team for three years and had numerous opportunities to volunteer in the community and to cheer on her favorite team, The Hilltoppers! Go Tops!
During her senior year, Jessica got a head start on her broadcast meteorology career when she became the Weekday Evening Meteorologist in Bowling Green, KY. After graduating, Jessica moved to Decatur, IL and became the Weekday Morning Meteorologist at WAND-TV. While in Decatur, Jessica got her fair share of extremes when it came to forecasting. From tracking tornadoes to wind-chills of -40°, Jessica learned a lot when it came to predicting the uncertain weather of the Midwest. From there, Jessica traveled to warm and sunny Myrtle Beach, South Carolina to work as a meteorologist at WMBF News. While at the beach, Jessica had the opportunity to forecast and experience hurricanes, tropical storms, along with plenty of South Carolina heat and humidity.
While Jessica loved the beach, she couldn't be happier to be back in her hometown of Louisville! She's excited for the challenge of forecasting and predicting weather in the Ohio Valley. Jessica also loves seeing your weather photos! Be sure to send them to her at jessica.dobson@wave3.com.
Updated: Apr. 21, 2023 at 5:00 PM EDT
|
By
Jessica Dobson
and
Dustin Vogt
With the 2nd Street Bridge already shut down and I-65 shutting down Saturday night ahead of fireworks, we have some tips to help plan your parking and exit strategies.
Updated: Aug. 18, 2022 at 3:53 PM EDT
|
By
Jessica Dobson
,
Dale Mader
and
Dustin Vogt
WAVE Meteorologist Jessica Dobson and photojournalist Dale Mader are at the fair this afternoon to check out all the attractions and fun events scheduled at the Kentucky Expo Center.