Military War Dog enjoys retirement
Published: Feb. 6, 2012 at 4:24 AM EST
|
Updated: Feb. 13, 2012 at 4:30 AM EST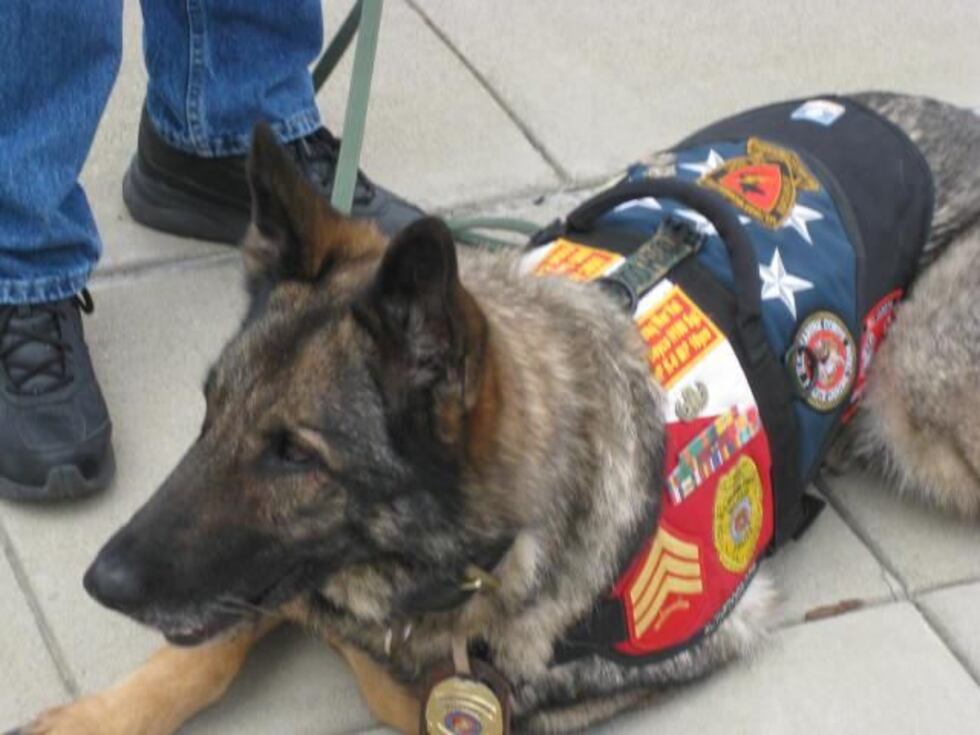 LOUISVILLE, KY (WAVE) -  It's often said that a dog is man's best friend but, this dog is more than that. Beyco is a veteran and has served overseas and saved countless lives. She was recently adopted by a Louisville man who is giving her a new home.
 
Decorated in medals and badges, 10-year-old Beyco isn't your ordinary dog.

"Beyco is a former marine explosive detection dog," said Joe Sturm.

To Joe Sturm she's a hero.

"They figure these dogs saved 150 lives during their deployment," said Sturm.

Beyco retired from the United States Marine Corps after ten years of service...two tours in Iraq.

"The protection they give to their handlers they would give their lives for them and as would the handlers for them," said Sturm.

In March 2005, Beyco deployed to Iraq where she helped disrupt insurgent activity. She's no stranger to war and had her own battles too.

"Her handlers told me she was attacked from packs of dogs who ran in packs who were hungry and she would have to fight them off," said Sturm.

Beyco is now living with Sturm, he says he relates to her being a Vietnam veteran himself.

"It's a brotherhood with her, like any vet to me," said Sturm. "With my conditions that I suffer from and she suffers from, we kind of help each other."

Beyco suffers from post traumatic stress, has back problems, and issues with her digestive system, pancreas and requires expensive medication.

Sturm says she's finally living a dogs life and enjoying retirement.

"She deserves it for the things she's done for this country the soldiers and lives she has saved and protected," said Sturm. "She deserves laying on the couch slobbering on it and tearing on baseballs."

Sturm says he's working to get Beyco adjusted to the other dogs he has at home. He's also focused on changing legislation that would upgrade the treatment of military working dogs after retirement.
     
To learn more about Beyco, head to the WAVE 3 Facebook page.

Copyright 2012 WAVE News. All rights reserved.