Zenyatta's first foal a handful
Published: May. 2, 2012 at 5:41 PM EDT
|
Updated: May. 2, 2012 at 10:10 PM EDT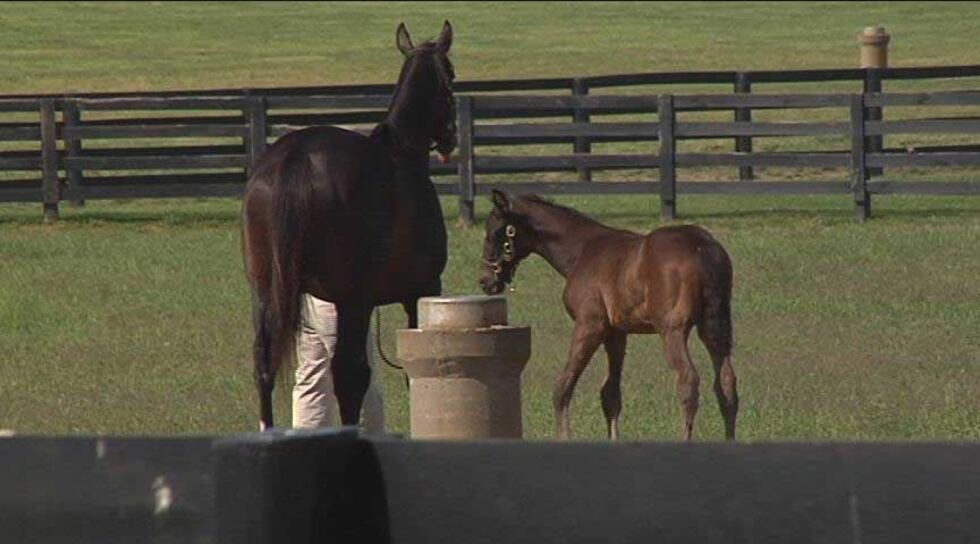 LOUISVILLE, KY (WAVE) - At Lanes End Farm, they're constantly cleaning up after him. His room is always a mess. And when it's time to come out and play, his friends are glad to see him go.
"He's a character," said broodmare manager Charles Campbell. "The guys in the barn all got bruises on them where he's played with them, nibbled at them."
The same thoroughbred that chased down other horses for a living is now spending her days chasing a seven-week-old foal around the Lanes End paddock. Zenyatta has her hands full with this one, her first foal, born March 8. The colt has no name yet, and he squeals like a pig while he's running.
"He loves to canter around and make noises while he's doing it. He wants everyone to look at him. Look how fast I am guys," said Campbell.
He has reason to be fast. He's the son of Horse of the Year Zenyatta and Preakness winner Bernardini. The experts say at her peak, when she was racing, Zenyatta was worth about $10 million. That's nothing compared to what her colt will be worth if he wins the Kentucky Derby.
"He's by Bernardini as well, which will help him, a stallion on fire at the moment. She was incredible. We dream but until it gets to 2015 we really won't know," said Campbell.
Until then, they know they have a feisty, fractious foal on the farm who is so valuable, they can't even put a price tag on him. If they think about his worth, it will make them nervous.
"Whenever you're handling one of these you have to completely switch off what they're worth. You could never  replace him," said Campbell.
(Copyright 2012 WAVE News. All rights reserved.)