Lynn's Paradise Cafe accused of abusing workers, unfair policies
Published: Jan. 11, 2013 at 11:07 PM EST
|
Updated: Mar. 15, 2013 at 5:00 AM EDT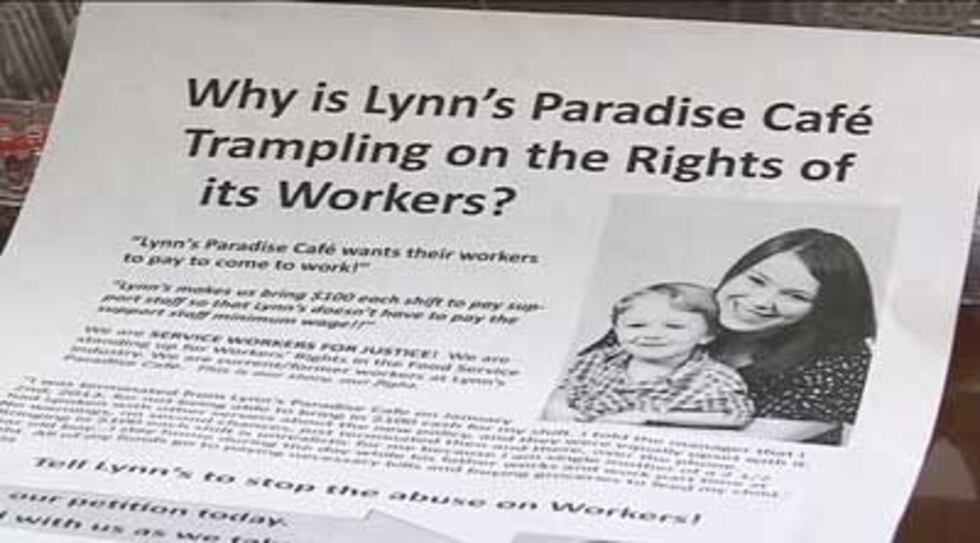 LOUISVILLE, KY (WAVE) - One of the most popular restaurants in town is under fire by the people who work there.
On Friday, Kentucky Jobs with Justice and former and current employees of Lynn's Paradise Cafe started their campaign, hoping to get things changed. They say there are numerous problems from not being notified of their shifts, to being harassed, to a new policy that requires servers to carry $100 cash on them at all times so they can tip out to co-workers.
The stories Kentucky Jobs with Justice Executive Director Flaco Aleman has heard from Lynn's workers are endless. "Just the amount of disrespect and abuse, verbal abuse… brought tears to my eyes," Aleman said.
Aleman, several volunteers and current and former employees are the ones responsible for flyers left on cars surrounding Lynn's Paradise Cafe. They're on a mission to educate. "If the restaurant workers are fed up where they're ready to take action, it's more than just a case of a disgruntled employee who's mad over a simple issue," Aleman said.
They're all coming forward after two people were fired last week over a new policy. "It was January 2nd I was terminated," said a former employee who wanted to remain anonymous. "That was the day the new policy for $100 for each server went into place."
She said as a single mother, it was something she just couldn't do, so she reached out to management. "[I] expressed to her my concerns with it that I thought it was unreasonable and that I couldn't do it and is there any way I could move to a hostess position. She said because I contacted her that day, not before, that I couldn't do it and for me to not come back into work."
Aleman said it's a policy that's not only inconvenient for those living paycheck to paycheck, but it's against Kentucky law. "The law says workers cannot be forced to tip pool in Kentucky. It can be an agreement -- a voluntary agreement -- but it cannot be forced."
He said it's just one example of an unfair work environment, and that most people who didn't like it weren't even told they were fired. "They'll take you off the schedule and tell you to call each day and tell you if you have a spot on each shift with the hopes after a week, two weeks, three weeks you'll quit, call and they can put down as no call, no show and quit," Aleman said.
Despite what's been done, no one involved wants to see Lynn's closed. "What I want to see is the policy changed and a few other things at Lynn's to ensure the employees there now and in the future have a fair work environment," Aleman said.
Aleman said that includes several things: reverse the policy of $100 bank and credit card tip policy, restore the people fired over policy and restore the people who were fired for speaking up, institute a policy to stop the harassment, sexual harassment and bullying, have it enforced, and a fair scheduling process that allows for a 48 hour notice.
Lynn's Chief Operating Officer Patty Schnatter confirmed the new policy. She said it was for the benefit of the employees, not the company. Schnatter said it would make it easier for them to file taxes at the end of the year and  buy into insurance.
Since learning of the complaints, Schnatter said they are reviewing the new policy and taking a poll from current employees about what they want to do.
Schnatter said legally they cannot comment about specific personnel issues, but issued the following statement: "For 22 years Lynn's Paradise Cafe has been committed to working with our employees to create a positive working environment through the challenges of an ever-changing economy.
We are disappointed to learn that a few former employees and third-party agitators have some disagreements with us at this time. The issues raised arise from personnel matters that we cannot and will not discuss publicly.
We are reviewing all of the issues raised, we are listening to the concerns and we will respond at an appropriate time and in an appropriate manner."
WAVE 3 also reached out to the Kentucky Restaurant Association about the one issue of tip outs. They say common among servers and standard, but the approach is different depending on the restaurants.
Copyright 2013 WAVE News. All rights reserved.