Video shows inmate stripped of clothes, placed in cell for hours, sheriff says no wrongdoing
Published: Jun. 13, 2014 at 10:58 PM EDT
|
Updated: Jul. 21, 2014 at 11:20 PM EDT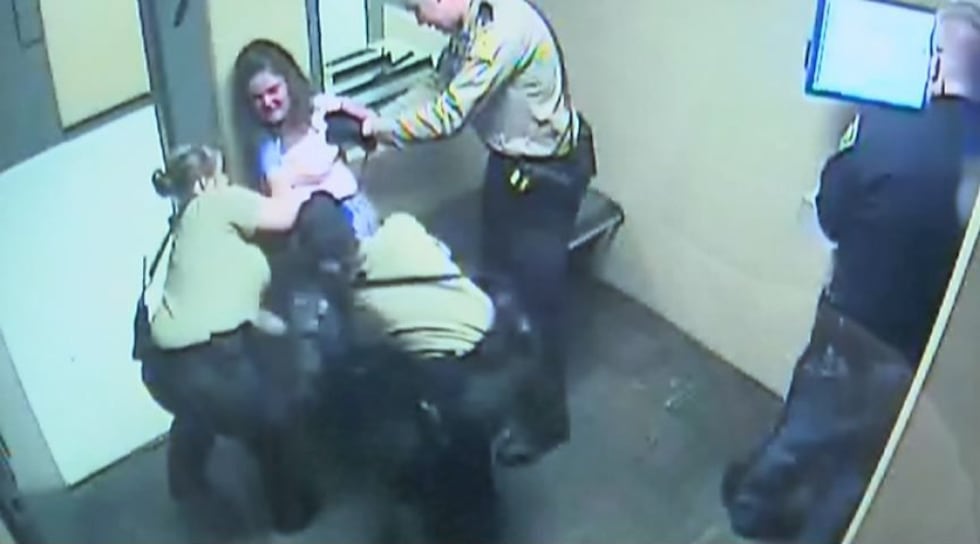 NEW ALBANY, IN (WAVE) – An internal investigation is underway after an inmate claims her constitutional rights were violated.
Video shows Tabitha Gentry being stripped of her clothes and placed in a padded cell for hours at the Floyd County Jail.
Laura Landenwich, an attorney for Gentry, is filing a federal lawsuit against the county on her behalf next week. The attorney provided a video copy of this incident and said an inmate should never be denied clothes.
The Floyd County Sheriff said he does not believe jail policies or procedures were violated.
On March 30 Gentry was arrested for disorderly conduct and resisting arrest, two misdemeanors, after a fight with her estranged husband.
"There are appropriate ways to handle someone when they are emotionally upset," said Landenwich.
According to an incident report by the Floyd County Sheriff's Department, Gentry appeared to be highly intoxicated. She refused to answer basic questions, resisted commands such as those to stay seated and tried to kick officers.
"In this case we don't know what was said, but we do see in this video that Tabitha said something to these officers and they descended on her, grabbed her around the neck, grabbed her body, and drug her into what they call a padded cell," said Landenwich.
Landenwich said the video clearly shows Gentry being stripped of all her clothing. In the cell there was an inmate smock.
"They left her there naked for about 30 minutes while she banged on the door, begging for someone to give her some clothing," said Landenwich.
According to the incident report, after being asked to stop Gentry continued to kick the door. She was then pepper sprayed by an officer. Gentry was left in the padded cell for 45 minutes before officers allowed her to rinse her body and decontaminate the room. She was placed back in the padded cell for five hours.
"There is no justifiable law enforcement purpose for treating someone this way," said Landenwich. "There is no officer safety issue implicated by her having clothing what this is, is humiliation."
Floyd County Sheriff Darrell Mills said because of the pending litigation he is not allowed to go on camera. He said strip searching inmates is not a standard policy of his department, but there are guidelines when it is allowed.
He said female or male inmates will be put in a padded cell, if they are acting combative, if they could possibly harm themselves or if they are highly intoxicated or under the influence of drugs. While in a padded cell, there is a standard smock that is issued to all inmates.
There was a very similar allegation at the Floyd County Jail last year involving Gentry's cousin. A lawsuit was also filed by Landenwich. Mills said that case was settled.
The Floyd County Jail's attorney, Jeff Rowe, did not return a call for comment.
Copyright 2014 WAVE 3 News. All rights reserved.