Felton Spencer Talks About His NBA Days and Life After Basketball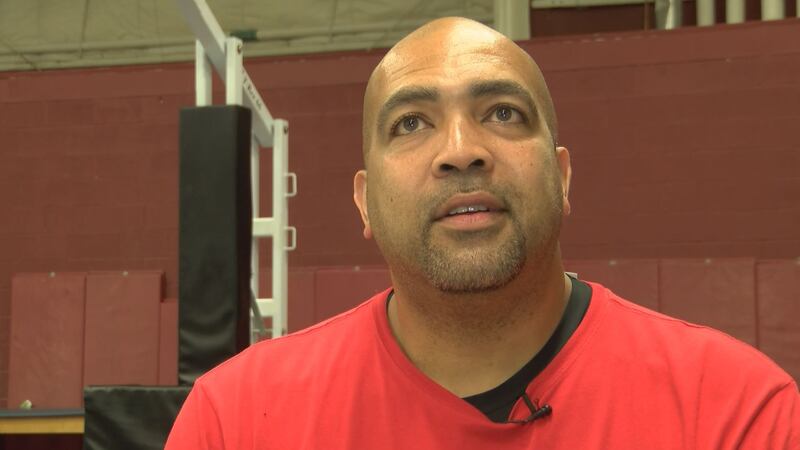 Published: Jun. 24, 2015 at 11:50 PM EDT
LOUISVILLE, KY (WAVE) At 7'2", Felton Spencer is still the big man on campus.  Bellarmine University Center, Yasin Kolo who is listed as 6'10" says Spencer is one of the largest men he's ever met.  "He is probably the only guy I ever had to stand beside that made me feel like a point guard," said Kolo.
Back in 1990, Spencer was the number six pick in the N-B-A Draft by the Minnesota Timberwolves, and played 12 seasons for six teams.  He says he can relate to what the projected lottery picks from both U-K and U of L are going through on the eve of the biggest night of their lives.  "It's a nerve racking time for the guys, because there's a lot of uncertainty.  You kinda have an idea of where you might think you'll fall, but nothing's guaranteed," said Spencer.
These days Felton is working at Jefferson County Public Schools, and this summer is helping out at Bellarmine University as both camp counselor, and big man coach for the Knights' post players.  "It's fun to be around them.  It makes me feel good that they let the old guy come out and hangout for a little bit," joked Spencer.  Bellarmine head coach, Scotty Davenport says having Spencer around is a huge asset.  "He's a great teacher of the game.  Not just for these campers, he's doing a great job with the Bellarmine players," said Davenport.  "It's an honor just to learn from a 12 year NBA veteran.  He gives me a lot of advice on being a post player," said Kolo.
He gives the guys pointers, but forgot to mention his days of taking ballet while at U of L.  When it was mentioned to Kolo, naturally, he laughed at the thought of the big man pulling off a pirouette.  "Ballet is a whole other level now.  That's pretty funny.  I didn't know that," said Kolo.  Spencer told me the story of how the whole ballet class came about.  "Coach Crum came in one day to the gym.  He called us to his office and says guys, I've got something that I think is going to take your game to the next level, and I want you to try it out.  We were like ok coach.  What is it?  He said ballet.  And we was like, what?" laughed Spencer.
As you can imagine, the gentle Giant loves being home, and giving back to his community.
Copyright 2015 WAVE News <
>. All rights reserved.