Rowan Co. Clerk Kim Davis rejects compromise, will stay in jail
Published: Sep. 3, 2015 at 3:27 PM EDT
|
Updated: Sep. 10, 2015 at 5:07 PM EDT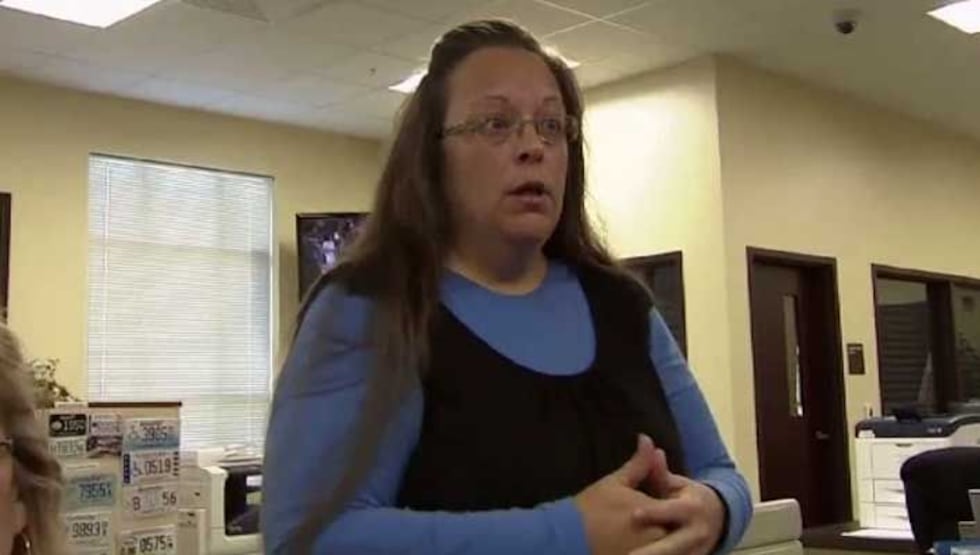 ASHLAND, KY (WAVE) - The Kentucky county clerk at the center of a national controversy has refused an offer that would have let her out of jail, the Associated Press is reporting.
Rowan County Clerk Kim Davis said she would not accept a compromise that would have required her not to interfere with the issuance of marriage licenses to same-sex couples in exchange for being let out of jail.
Davis is being held at the Carter County jail.
[PREVIOUS STORY: Rowan clerk faces contempt hearing as marriage license flap heats up]
Five of the six Rowan County clerks said earlier Thursday they'll issue marriage licenses to same-sex couples.
A federal judge found their boss, Davis, in contempt of court and ordered her into the immediate custody of U.S. Marshals on Thursday afternoon.
Davis stopped issuing licenses to all couples in June after the U.S. Supreme Court legalized marriage between couples of the same sex. Despite rulings against her, she repeatedly turned away couples, citing her Christian beliefs and "God's authority."
[RELATED STORY: Another KY clerk vows to not issue marriage licenses to same-sex couples]
The only holdout Thursday was Davis' son, Nathan.
U.S. District Judge David Bunning did not fine Davis, as couples who sued in the case had requested. Bunning said fining Davis would have had no real impact because her supporters likely would have paid the fines for her.
Meanwhile, hundreds of noisy demonstrators -- some who support and others who oppose Davis' stand -- gathered outside the Federal Courthouse in Ashland on Thursday where Davis appeared before the judge at a hearing that began at 11 a.m. on Thursday. Bunning had also ordered all of Davis' deputy clerks to appear in court with her.
About 30 police officers and federal marshals are providing security outside the courthouse.
This story will be updated.
Copyright 2015 WAVE 3 News.  All rights reserved.