Bevin talks charter school with African-American preachers
Published: Dec. 30, 2015 at 12:18 AM EST
|
Updated: Jan. 6, 2016 at 12:46 AM EST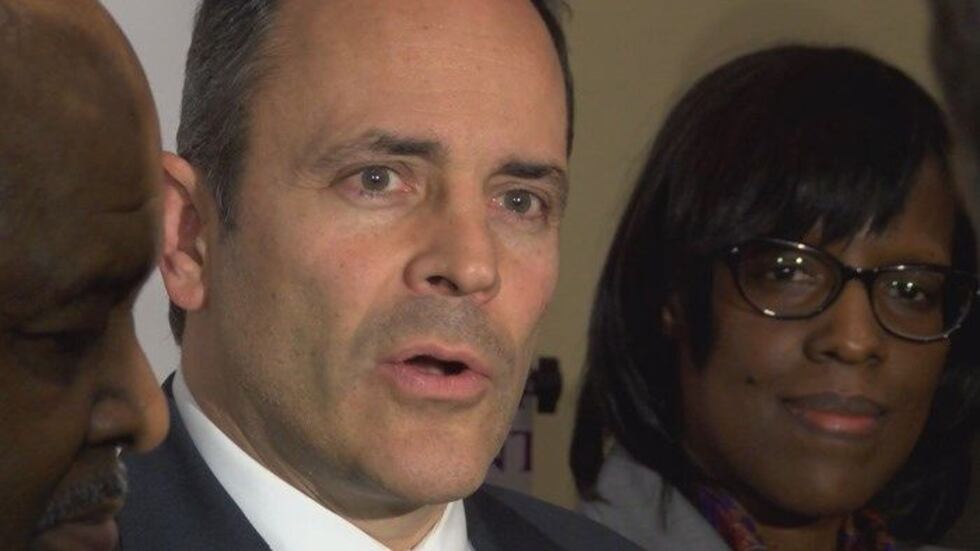 LOUISVILLE, KY (WAVE) – Preachers said they were 'sounding the alarm' Tuesday during a meeting about education with Governor Matt Bevin.
The meeting, organized by the Kentucky Pastors in Action Coalition or K-PAC, was held at the Christ Temple Christian Life Center. Its focus was education and the creation of a charter school system that K-PAC leaders believe would be beneficial to minorities.
Not everyone agrees.
[OTHER NEWS: KFC Yum! Center to implement enhanced security measures next month]
Before Bevin arrived, protesters, including a representative of the group Dear JCPS, were ready to greet him with signs. Bevin came in through a different entrance. The protestors were not allowed inside the meeting and were kicked off church property.

"It seems like they knew that we were here and they dropped him off at a different entrance," Gay Adelmann with Dear JCPS said.
Both Bevin and the K-PAC Chairman, Michael Ford, told WAVE 3 News they were unaware the protestors were not allowed in. They both said they had not made that call and welcomed a discussion.
"There is nobody that I have not been willing to have a conversation with at any time, at any location about any issue including this one," Bevin said.
Adelmann was later allowed inside and spoke to a Bevin representative who took her contact information. Bevin had already left.
Ford told us he is in favor of charter schools because he believes the African-American community is underserved.
"When you're the only game in town, then you don't have to work very hard and , and the statistics are showing that our kids are in a deplorable condition in terms of education," Ford said.
Bevin said education is one of his priorities and believes the current public education system is broken.
"Every day, every week, every month, every year that we are not providing a better alternative, we're losing young people," he said.
He also blamed the teacher's union for trying to maintain control over while negating the needs of students.
"The teacher's union has not been the best friend of the student. They haven't. They hide behind the student, they use the student as cover for things that frankly help them to control the situation," he said. "The regulation, the bureaucracy. We are protecting administrators and teachers alike who are not helping the student."
Bevin would not specify where a Charter School would go or if JCPS's budget would take a hit.
"All this will be put forward within the next couple three weeks," Bevin said.
Those are questions the protestors want answered.
Copyright 2015 WAVE 3 News. All rights reserved.