Muhammad Ali's funeral planned for Friday in Louisville
Published: Jun. 4, 2016 at 7:29 PM EDT
|
Updated: Jun. 7, 2016 at 9:08 PM EDT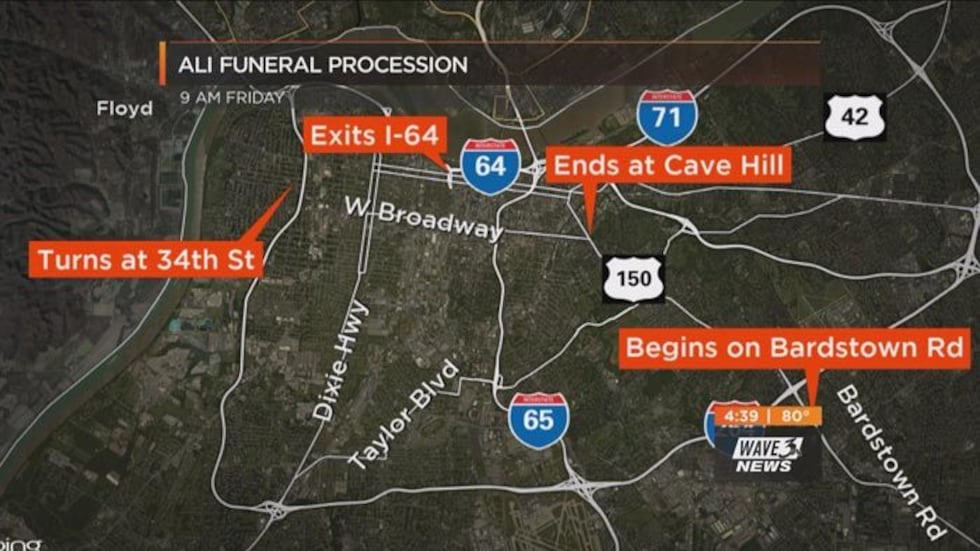 LOUISVILLE, KY (WAVE) - Muhammad Ali's body will be laid to rest following funeral services and a final trip through the streets of Louisville.
>> Share your condolences on Facebook
On Thursday, a private ceremony will be held at the A.D. Porter & Sons Funeral Home at 4501 Bardstown Rd. for family and close friends.
A service will take place at Freedom Hall on Thursday for Janazah, the Muslim funeral prayer. The service is open to the public and people of all religions. Doors open at 9 a.m. with the service beginning at noon. The decision to have the Janazah at Freedom Hall commemorates Muhammad's last fight in Louisville. Ali defeated Willi Besmanoff on November 29, 1961. Free parking will be available at the Kentucky Exposition Center (937 Phillips Lane Louisville, KY 40209) for all attendees.
Services on Friday will begin with prayers at A.D. Porter & Sons, followed by a large procession that will take Ali through the streets of Louisville. The procession will pass the Muhammad Ali Center in downtown Louisville before traveling along the street bearing his name into the Parkland neighborhood, the part of town where Ali was raised.
Gunnell said the procession will then head east on Broadway to Cave Hill Cemetery, where Ali will be laid to rest in a private service.
More Muhammad Ali Coverage
+ Muhammad Ali dies at 74
+ Louisvillians show up early to pay tribute to 'The Greatest'
+ Family spokesman: Ali died with 'love all around him'
+ Muhammad Ali will be buried in Louisville
+ 27 great Muhammad Ali quotes
+ Billy Reed: Legendary sportswriter reflects on friendship with legendary Ali
+ Called home: Mourners, friends share memories where Ali's legend began
+ Local imam describes Muslim burial procedure
+ VIDEO: 'He saved me,' once-troubled Louisville man says of Ali
+ VIDEO: Ali shares religious, political, racial insights in 1974 interview
+ VIDEO: Muhammad Ali -- The Greatest Is Gone
+ SLIDESHOW: In the ring with The Greatest
+ SLIDESHOW: Through the years: From Cassius Clay to Muhammad Ali
+ 2015 VIDEO: Epic Super Bowl ad features voice of young, brash Ali
+ WAVE 3's John Ramsey recalls lifelong friendship with Ali
+ Louisville friends spent The Greatest's final hours praying, hoping
+ Ali's friends tell how he took on the neighborhood bully
+ Politicians offer condolences following Ali's death
+ Special Muhammad Ali Section
Following the burial, an interfaith memorial service is scheduled begin at 2 p.m. at the KFC Yum! Center. Former President Bill Clinton, former U.S. Senator Orrin Hatch, sportscaster Bryant Gumbel and actor Billy Crystal will be among those in attendance.
Gunnell said Ali became ill on Monday and was admitted to a Phoenix-area hospital that night. He was originally listed in fair condition. Family members, Gunnell said, were called to Ali's bedside after his conditioned worsened. Gunnell added that after discussions with Ali's wife, Lonnie Ali, and doctors treating him, it became clear that his condition was not going to improve.
Ali died at 9:10 p.m. PDT Friday from septic shock due to unspecified natural causes. During the 24 hours before Ali's death, Gunnell said all family members traveled to Phoenix and had a chance to say goodbye.
Copyright 2016 WAVE 3 News. All rights reserved.