'GameDay' Prediction: Billy Reed says Corso will don Cards headgear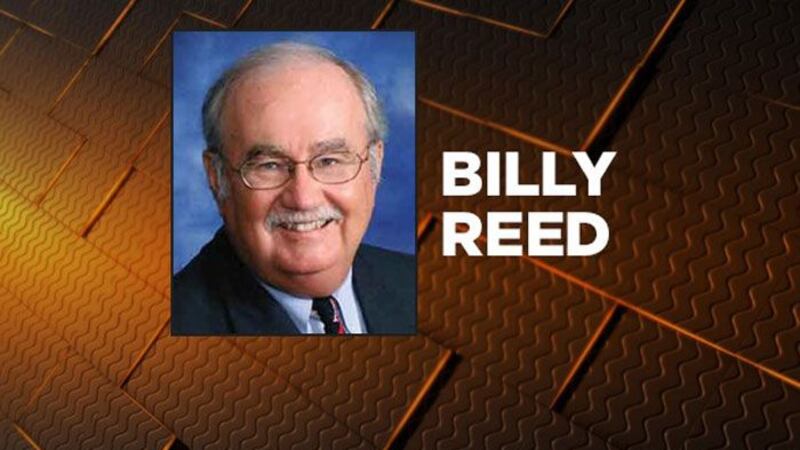 Published: Sep. 14, 2016 at 8:37 PM EDT
|
Updated: Sep. 14, 2016 at 9:37 PM EDT
LOUISVILLE, KY (WAVE) - The signature moment of ESPN's wildly popular College GameDay show always comes at the end, when Lee Corso, the most effervescent 70-something in America, dons the headgear of whichever team he's picking to win the game soon to be played at whatever campus from which the show is broadcasting.
On Saturday, for the first time ever, College GameDay will be coming to you live from the University of Louisville, which will play host to mighty Florida State in a noon game that has to rank among the most exciting and anticipated in program history.
Since Corso coached the Cardinals from 1969-72, taking his final team to a 9-1-1 record and a berth in the Pasadena Bowl (OK, it was a big deal then), many UofL fans are wishing, hoping and thinking Corso will don the Cardinal bird head.
Not so fast, my friends.
Corso also is a 1957 Florida State graduate, where one of his roommates and teammates was Burt Reynolds, an actor of whom you may have heard. He played both ways, quarterback and defensive back, and set a record for career interceptions that lasted for many years.
MORE FROM WAVE3.COM 
+ Attending College GameDay? Here are some things you need to know 
+ John Boel: 'GameDay' hype, hoopla detract from key top-10 matchup
+ Don't have tickets? Where's the best place to watch?
+ Who should be the guest picker?
So what will Corso do?
Well, history tells us that he is no homer. He will put on the headgear of the team he honestly believes will win, no matter how loudly he may get booed by the students and fans who always gather behind the GameDay set. So don't expect sentiment – either for his alma mater or his former employer – to sway him one way or another.
Truth be told, there were bruised feelings on both sides when Corso left UofL for Indiana University. It wasn't so much that the Cards' fans begrudged Corso the opportunity to coach in the Big Ten (the Cards were independents at the time). It was just that they felt he had betrayed their love.
In those days, UofL's home games were played on the grass and dirt field at Fairgrounds Stadium, which was built to be mainly a baseball park. On rainy days, the field would become so soggy that football contests looked more like mud-wrestling exhibitions.
After the 1972 season, Corso leveraged his success and popularity to get the State Fair Board to replace the dirt and grass with an artificial turf. But that so upset Bill Gardner, owner of the Louisville Colonels Triple-A baseball team, that he moved his franchise to Pawtucket, R.I.
Despite getting his way, Corso still left for Bloomington, beginning a dismal decade in which the city had no Triple-A baseball, but a lot of mediocre football under coaches T.W. Alley, Vince Gibson and Bob Weber.
The city began a sports renaissance in 1982, when A. Ray Smith moved his Triple-A Redbirds, the top farm team of the St. Louis Cardinals, from Springfield, Mo., to Louisville. Two years later, the Cards shocked the football world by hiring Howard Schnellenberger, a graduate of Flaget High and UK who had coached Miami to the 1983 national title.
It's a little-known fact that after IU fired Corso after the 1982 season, UofL athletics director Bill Olsen tried to get him to come back to Louisville and be a fund-raiser, glad-hander, and all-around promoter for the athletics department.
Corso seriously considered the offer -– he still had a lot of friends in Louisville, such as the late Harry and Nancy Jones -– but decided to stay in coaching. After a year at Northern Illinois and another one in the United States Football League, he finally retired and went into private business.
But in 1987, Tom Jackson, who had played for Corso at UofL before teaming with Chris Berman on ESPN's NFL GameDay show, convinced his bosses to take a look at Corso for the college version of the show.
The rest, as they say, is TV history.
If Corso's departure in 1972 set back the progress of UofL's football program, so did the attitude of Florida State coach Bobby Bowden in the 1980s.
After leaving the Missouri Valley Conference following the 1974 season, UofL was an independent in football until joining Conference USA before the 1996 season.
However, in all sports except football, the Cardinals belonged to the Metro Conference from 1975 through 1996, when the Metro was folded into Conference USA.
The six founding members of the Metro were Louisville, Cincinnati, Memphis State, Georgia Tech, Tulane and St. Louis. Over the next eight years, Georgia Tech and St. Louis left, but the additions of Florida State, South Carolina, Virginia Tech and Southern Miss left the Metro in position to have a very good football conference.
But the league never sponsored football because Bowden adamantly refused to give up Florida State's independence in football.
His lame excuse was that the distance between Florida State and the league's northernmost members – UofL and Cincinnati – was so great that it precluded establishing strong rivalries.
The real reason, of course, was that he felt that by remaining independent, Florida State could put together a schedule more conducive to winning national championships. There also was the matter of Florida State being able to keep all its TV revenue instead of sharing it with league members.
Interestedly, UofL stopped pushing Florida State to become a Metro football member when Schnellenberger was hired in 1984. That's because Schnellenberger had the same views as Bowden. In fact, the main reason he left UofL in 1996 was that he was adamantly opposed to joining Conference USA.
Although the Cards are a pitiful 2-14 all-time against Florida State, one of those victories – 26-20 in overtime on Sept. 26, 2002 – was a watershed moment, so to speak, in UofL football history.
On a sultry, late-summer night in which it never stopped raining at Papa John's Cardinal Stadium, Coach John L. Smith's Cards stunned the nation's fourth-ranked team.
Louisville pushed the game into overtime when Dave Ragone connected with Damien Dorsey on a one-yard touchdown pass with about 11 minutes to go in the fourth quarter, tying the score at 20-20.
    
The Cardinals won the coin toss in overtime and elected to start on defense. Seminole quarterback Chris Rix dropped back at the 25-yard line and threw a pass that fluttered to Cards' defensive back Anthony Floyd.
"He just threw it bad," Bowden said afterward. "When he threw that thing, it was like a dead duck."
On UofL's ensuing possession, Henry Miller ran 25 yards for the winning touchdown, leading the rain-soaked crowd to storm the field and tear down the goal posts that had been specially ordered in case of a Cardinal victory.
Big as that one was at the time, this game is even bigger. That's why ESPN's "College GameDay" is here. This time both teams are unbeaten and ranked in the nation's Top 10. This time, UofL has the sophomore quarterback, Lamar Jackson, who so far has been college football's most exciting player  and Florida State has junior running back Dalvin Cook, who has made all the early Heisman Trophy watch lists.
"College GameDay" always invites a celebrity mystery guest to make a pick, usually an alumnus of one of the competing universities. Around here this week, speculation has spun around such names as actress Jennifer Lawrence, former Cards quarterback Teddy Bridgewater and U.S. Senate Majority Leader Mitch McConnell, a UofL graduate and booster.
But that will be just the warmup act. What everyone wants to know most is which headgear Corso will don at the show's end.
I'm betting on the Cardinal bird for one reason only: I believe that Corso, like me, will come to the conclusion that UofL simply has the better team.
Billy Reed is a longtime sportswriter who contributes regular columns to WAVE3.com.
Copyright 2016 WAVE 3 News. All rights reserved.