Louisville defeats Jacksonville State 78-63, advances to play Michigan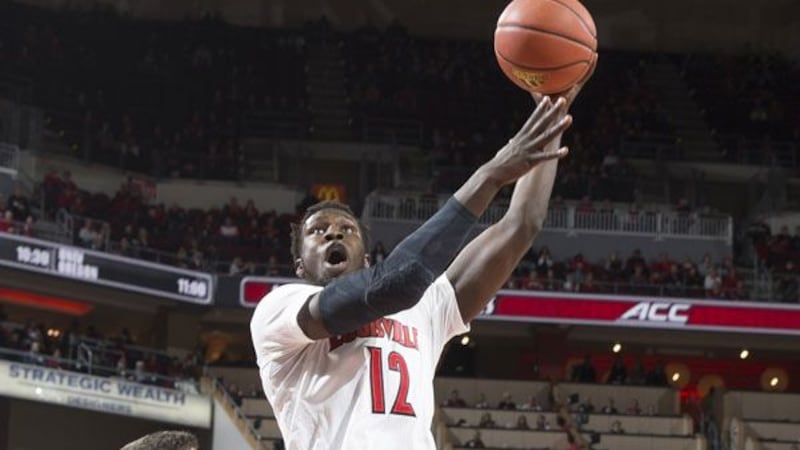 Published: Mar. 17, 2017 at 12:35 AM EDT
|
Updated: Mar. 17, 2017 at 5:29 PM EDT
INDIANAPOLIS, IN (WAVE) - The Louisville Cardinals defeated Jacksonville State 78-63 in its opening game of the 2017 NCAA Tournament.
Mangok Mathiang led the Cards scoring effort with 18 points on 8-13 shooting. Mathiang's 18 points tie his career-high.
>>CARDS CORNER: Louisville Sports Stories
The Cards started the game sluggish, Jacksonville State opened on an 8-0 run.
Louisville's first lead didn't come until 6:41 left in first half, when the Cards went up 21-19 on a Deng Adel 3-pointer.
Despite the slow start, the Cards owned the 38-31 lead at the break.
Louisville came out of halftime looking much more alert, starting the second half on an 8-2 run.
Donovan Mitchell didn't score a point in the first half, he was 0-8 from the field. Mitchell's first points of the game came with 15:31 left, on two made free throws. He did have a career-high rebound total, racking up 10.
Mitchell finished the day with nine points.
MORE FROM WAVE3.COM
+ VIDEO: Adel, Mitchell, Pitino preview UofL tourney opener
+ Real Time Brackets: Change your NCAA picks during the games!
+ Tickets now available for UofL-Purdue football opener
Norbertas Giga had a career-high 30 points for Jacksonville State.
Louisville advances to play Michigan on Sunday in a rematch of the 2013 National Championship game.
"We know what we're in for," Louisville head coach Rick Pitino said. "It's going to be the toughest second-round match-up since I've been doing this. I think it'll be a heck of a game."
Copyright 2017 WAVE 3 News.All rights reserved.