Catching up with David Levitch on the backside of Churchill Downs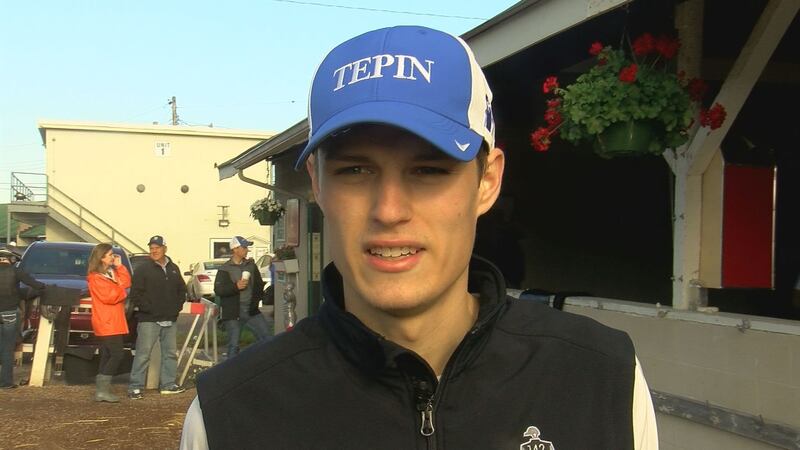 Published: May. 4, 2017 at 4:17 AM EDT
|
Updated: May. 4, 2017 at 11:51 AM EDT
LOUISVILLE, KY (WAVE) - David Levitch quickly became a fan favorite at the KFC Yum! Center. The North Oldham High School grad initially saw action in blowout games, but he eventually became a key member of the UofL attack.
Levitch graduated in December, and with his eligibility exhausted, he's looking for a job.
>> INSIDE THE RAIL: Get our free Derby app
That search took him to the backside of Churchill Downs last spring, where he was an intern for the Casse Racing Stable.
"When he signed up for the job I was really apprehensive about it because he's a young guy, and a guy that I look up to," assistant trainer Norm Casse said. "I look up to the UofL basketball program, I said, 'I hope I don't have to say, 'Come on dude, you need to get here on time.'' He beat me to the barn most of the time."
Levitch claims to have a special connection to Kentucky Derby morning-line favorite Classic Empire.
MORE FROM WAVE3.COM
+ Wagner's Kitchen is hot spot eatery during Derby week
+ Forecast prompts many to reconsider Oaks Day apparel
+ Kentucky Derby 143: Post positions, morning-line odds set
"Just the first horse I ever hot walked," Levitch claims.
"I don't know if that's a true story or not," Norm Casse says. "I know he did hot walk him. He hot walked a lot of good horses, but David Levitch is a good kid and we're really happy that he's a part of the team."
College basketball fans across the nation know that Levitch likes the horses, thanks in large part to ESPN analyst Dan Dakich.
Dakich mentioned it just about every time he called a UofL game. When the Cards visited Virginia in February, he told the ESPN audience, "He's the best horse handicapper in Louisville."
>> VIDEO: Watch Kent Taylor's report
His handicapping prowess even impressed his UofL head coach, Rick Pitino, a longtime horse owner.
"If you ever become a full-time trainer I'll give you a couple of horses," Pitino told Levitch during a taping of "Inside the Cards with Rick Pitino" on WAVE 3 News, adding, "I think I'm going to have to name a horse after him now."
As for Kentucky Derby 143, here's a superfecta from Levitch:
"Classic Empire, Always Dreaming, Hence for a longshot, if he gets in, Royal Mo, but if he does not get in, I hate to say a maiden, but I kind of like closers in the Derby because it collapses, there's always one horse that picks up the pieces, probably Sonneteer," Levitch said. "Throw him in there, fourth or something."
>> PREVIOUS STORY: UofL's David Levitch working on playoff beard
Copyright 2017 WAVE 3 News. All rights reserved.