Painting theft at Whet Your Palette caught on surveillance camera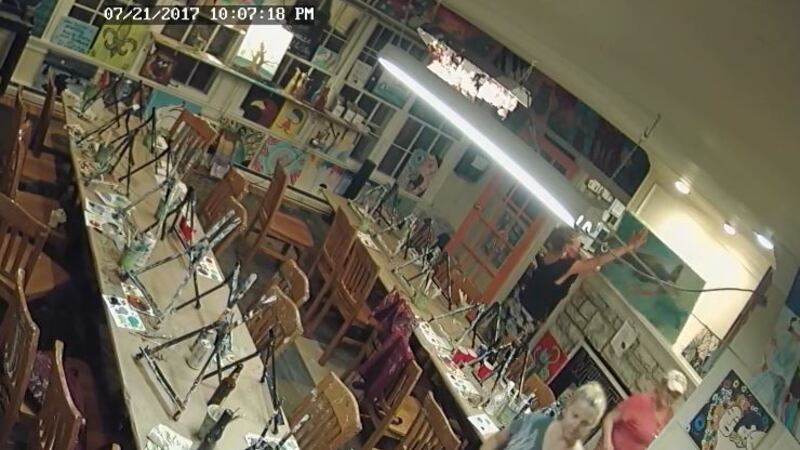 Published: Jul. 24, 2017 at 3:02 PM EDT
|
Updated: Jul. 24, 2017 at 5:24 PM EDT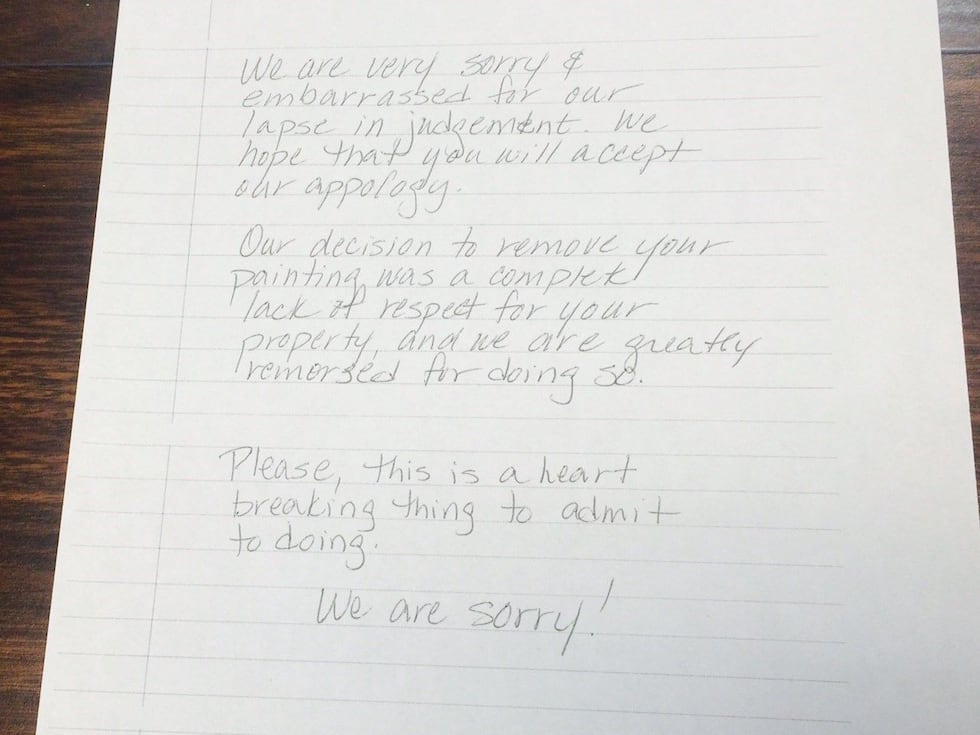 ANCHORAGE, KY (WAVE) - Police say a piece of art was stolen from a painting studio, and the incident was caught on camera.
The theft happened Friday at Whet Your Palette in Anchorage.
The owner of the business reported it to Anchorage police the next day after an employee noticed it wasn't in the location where it was last seen. Owner of Whet Your Palette, Judith Kronbach, says she looked on her surveillance video and was shocked.
"I couldn't believe it, like really? Is this really happening," Kronbach said. "One lady took it (painting) off the mantle and walked towards the front. The other two were staying at the back door. When she came back in the room from the front, they went out really quickly."
Kronbach says the women were in her business for an art class Friday night. She shared surveillance video on social media, trying to get help from the community to identify the three women in the video.
Anchorage police cited and released Lora Nelson of Louisville for the incident and charged her with theft by unlawful taking. The two other women in the video have been identified but not charged; prosecutors are reviewing their possible involvement in the case.
"Interesting, very interesting," Anchorage Police Lt. Mark Hoskins said. "Not typical, no."
According to Anchorage Police, when the investigating officer contacted one of the women with Nelson by phone, he says she initially denied being at Whet Your Palette Friday. According to a report, that woman's  demeanor changed quickly.
"Once he told them there was a video available from inside the studio, they came in on their own at that point," Hoskins said.
Before the women went to police, the painting was returned to Whet Your Palette.
"The painting was wrapped in a garbage bag and that was attached to it," Hoskins said.
An apology note was attached to the turtle painting.
MORE FROM WAVE3.COM
+ Former Governor removed as minority whip following report of misconduct
+ Fire breaks out at business on Poplar Level Road
+ Video: After race, Phelps v. Shark is not over
WAVE 3 News did speak to Nelson on the phone, she declined to go on camera. She claims that she thought one of the two women with her paid for the painting.  Nelson says when they realized what happened, she says they returned the painting.  She added that they willingly went to the Anchorage Police Department to speak to police.
According to an Anchorage Police report, the women told police they were embarrassed about the incident. They said it was stupid and they did not have a good excuse. Police say they asked Nelson if she wanted to watch the surveillance video, they say she said, "I haven't seen it and don't want to see it. I know what we did."
The video has been viewed about 200,000 times and more than 2,300 people shared it.
Kronbach says the painting is special to her, she painted the piece.  She values it at $2500, but told police a lesser amount in an effort to not be so harsh on the suspects.
The two other women in the video have been identified. Anchorage Police are consulting with county attorney's office to see if the other two women will be charged.
Nelson will be in court on August 17.
Copyright 2017 WAVE 3 News. All rights reserved.