Businesses cash in on upcoming solar eclipse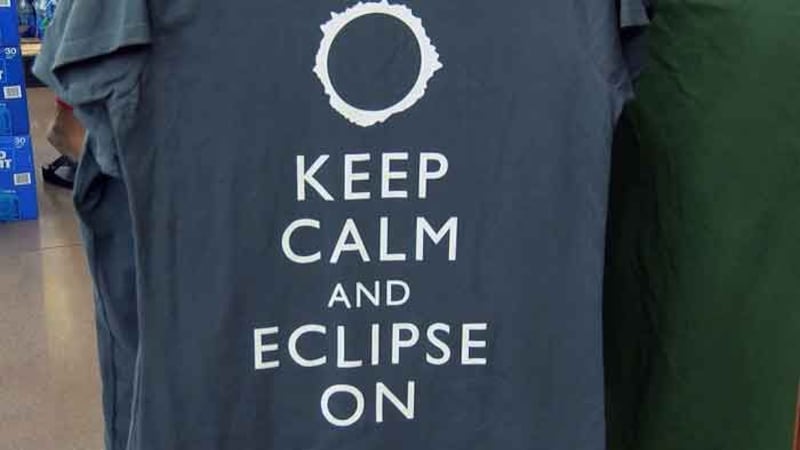 Published: Aug. 15, 2017 at 8:27 PM EDT
|
Updated: Aug. 15, 2017 at 8:54 PM EDT
LOUISVILLE, KY (WAVE) - Can an event that lasts just a few minutes make an impact on businesses? The answer is yes!  So many area businesses are marketing products for the eclipse. Glasses aren't the only hot ticket item for Kentucky's Darkest Day; the sky is the limit when it comes to eclipse swag.
Kroger wants to make sure those throwing eclipse parties have everything in their "Solar Eclipse of the Cart!" Many area Kroger stores have sold out of eclipse glasses but, they are still selling other eclipse gear.
"We have t-shirts available," Goss Avenue Kroger assistant manager Chelsea Nichols said.  "We have the 'I live in the Twilight Zone' shirt. I'm sure a lot of people know that Louisville and surrounding area are getting the biggest part of the eclipse; that's been really exciting."
MORE FROM WAVE3.COM
+ Print your own WAVE 3 News solar eclipse pinhole projector
+ How to view the eclipse safely without eclipse glasses
+ How to check if your eclipse glasses are safe
Anything celestial related is popular. The Kroger on Goss Avenue said people are stocking up on Sun Chips, the cosmic snack Star Crunch, and Moon Pies. They recommend "7 Moons" wine to make a party more exciting.
"It's a red blend with milk chocolate notes in it," Nichols said.
>> VIDEO: Watch Maira Ansari's report
Heine Brothers' has a special eclipse drink. Fresh squeezed lemonade and espresso. When you purchase the eclipse drink, Heine Brothers' will donate 25 cents to the Kentucky Science Center.
Denny's is having a little fun too. The restaurant is marketing their pancakes as mooncakes.
If doughnuts are more up your alley, Kristy Kreme may be the place to be for the tastiest eclipse in history. Krispy Kreme's Original Glazed doughnuts are being eclipsed by a chocolate glaze.
Food isn't the only thing that can be marketed. On Monday, the New Albany Floyd County Animal Shelter wants to find all 15 of their black cats a forever home and are offering free adoptions for them.
"Black cats are harder to find homes for," New Albany-Floyd County animal control officer Carrie Mooser said.  "People just over look them, they stay longer in shelters. So we are trying to tie this in just a special day for them."
Adoption hours are from 12:00 p.m-4:00 p.m. at 215 West Market Street in New Albany.
Copyright 2017 WAVE 3 News. All rights reserved.