Gov. Bevin assures Kentuckians violence will not happen at any rallies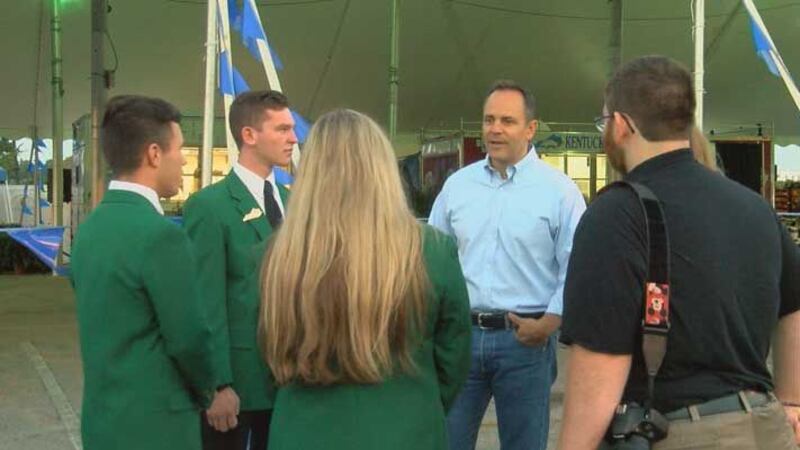 Updated: Aug. 18, 2017 at 12:42 AM EDT
LOUISVILLE, KY (WAVE) - Before the sun came up on the first day of the Kentucky State Fair, Governor Matt Bevin toured some of the agricultural sites.
While there, he also answered questions about a possible rally in Lexington, similar to what turned deadly in Charlottesville, Virginia.
He noted that Kentucky has already been successful in preventing violence at a rally involving the same groups that clashed in Charlottesville.
Bevin told reporters that when protesters showed up in Pikeville in April of 2017, a concerted effort kept everyone safe.
DOWNLOAD OUR APPS 
+ News app: Apple | Android 
+ Weather app: Apple | Android
"What we did is we made sure we met them with overwhelming preparation," Bevin said. "We met them with law enforcement presence that there would be no tolerance for anything that was going to result in that kind of mayhem."
Lexington's mayor says nothing is imminent regarding rallies and protests.
"I want to make it very clear that we have received no indication of a protest or demonstration planned in Lexington," Mayor Jim Gray said Thursday. "Not today, not this weekend and not in the near future."
LMPD already standing by if need be, issuing a statement that read: "We have assured Lexington Police Chief Barnard we are willing to assist if the need arises, according to what resources we have available and which are deemed appropriate to commit."
As for the Jefferson Davis statue in the Capitol in Frankfort, Bevin said Thursday the group that recently voted for it to stay will ultimately decide.
"The commission overseeing that responsibility decided 7 to 2 to leave it in place, to make sure that it was in fact there for learning purposes. That history was being discussed," he said.
When it comes to learning about Kentucky today, the Governor says there is no better place than the fair.
MORE STATE FAIR COVERAGE
+ State fair's first day brings out crowds despite rain
+ Freddy Farm Bureau turns 60
+ New WWI fair exhibit marks 100 year anniversary
"Come out and see how we love one another," he said. "There's nothing perfect about any place, including Kentucky. But I'll tell ya what, we've got a pretty special place where the South and the Midwest, and races, and different ideologies blend together."
Bevin also used his time Thursday morning to ask for help for some of Kentucky's most vulnerable: foster children.
He asked fairgoers for donations of duffel bags to be brought to South Wing B. They will be given to Kentucky Family Services for foster children, who he says often move from home to home with their belongings in plastic garbage bags.
The Kentucky State Fair runs through Aug. 27.
Copyright 2017 WAVE 3 News. All Rights Reserved.