House Speaker Jeff Hoover steps down amid sexual harassment allegations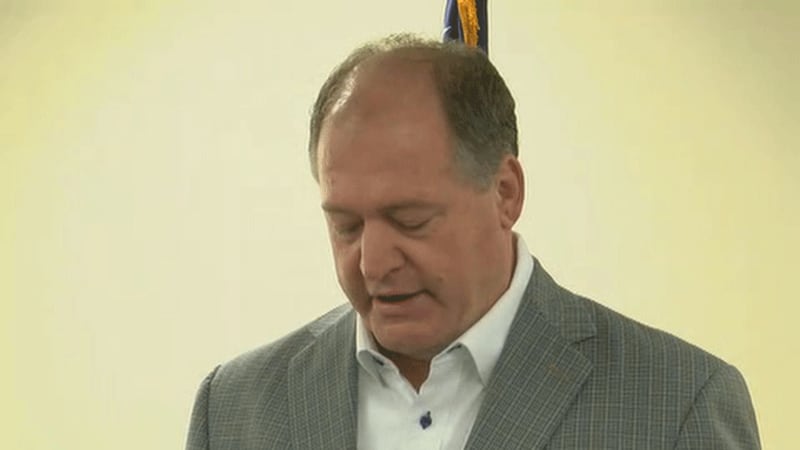 Updated: Nov. 5, 2017 at 5:21 PM EST
FRANKFORT, KY (WAVE) - Kentucky House Speaker Jeff Hoover has stepped down as Speaker of the House.
During his press conference Sunday afternoon, Hoover responded at length to allegations of sexual misconduct against him.
Hoover admitted to sending inappropriate text messages and remarked he regretted participating in office banter that he felt was consensual.
"What is best for my colleagues, my caucus members...it's no longer about Jeff Hoover. It's about more than that," Hoover said. "Therefore, I am announcing my resignation as speaker of the house, effective immediately."
Hoover said the decision is what he feels is best for the state of Kentucky at this time.
Hoover also stated he planned on keeping his seat and representing the people of House District 83. His district includes Clinton, Cumberland, Russell and part of Pulaski.
Numerous lawmakers and political leaders on both sides of the aisle had called for his resignation.
Hoover has been at the center of an ever-widening scandal involving sexual harassment claims against lawmakers secretly settled out of court.
On Saturday evening, a statement from Hoover indicated he had no plans to resign.
Kentucky Democratic Party Executive Director Mary Nishimuta issued the following statement Sunday afternoon.
"Hoover and Bevin attempted to wield their power and maneuver for their own political agendas during this sexual harassment case, while at least two female victims, and possibly more, are disregarded in their wake," Nishimuta said. "While Rep. Hoover's career as House speaker ends today, Kentuckians should consider it both vulgar and obscene that Gov. Bevin would speak out against sexual harassment when it's politically convenient for him, but yet refused to hold the president of the United States to the same standard.This isn't leadership, this is an abuse of power. Shame on them and the House GOP members who didn't have the courage to publicly stand up against these transgressions until they found it suitable for their own ambitions." 
Mac Brown, Chairman of the Republican Party of Kentucky, released a statement following Hoover's announcement Sunday evening.
"There is no place for sexual harassment in any workplace, much less in our State Capitol. Today's decision by Speaker Hoover to step down was appropriate.  While it was personally difficult for him, stepping down allows the rest of the House Republican Leadership to move forward with the business of the Commonwealth," Brown said. "We also fully support the independent investigation announced by House Republican Leadership to determine the extent of the harassment. We hope that this investigation will reassure the public that House Leadership is dedicated to changing the culture in Frankfort," he added.
House representative Phil Moffett confirmed to WAVE 3 News that three other committee chairmen alleged to have settled sexual harassment cases out of court are Michael Meredith of District 19, Bryan Linder from Northern Kentucky and Jim Decesare of Bowling Green.
"These people are innocent until proven guilty," Moffett said. "All of the facts that we've uncovered, I think implicate them very strongly."
Governor Bevin issued a statement Saturday afternoon on alleged misconduct from members of the Kentucky House of Representatives Bevin had some strong words for elected officials and allegations of sexual misconduct.
"These alleged actions, which haven't been denied, are reprehensible, indefensible and unacceptable. Any elected official or state employee who has settled a sexual harassment claim should resign immediately," Gov. Bevin said. "The people of Kentucky deserve better. We appropriately demand a high level of integrity from our leaders, and will tolerate nothing less in our state."
The statement comes days after reports that Republican House Speaker Jeff Hoover settled a sexual harassment allegation out of court. The allegation came from one of Hoover's staffers.
"I mean we were shocked that Jeff Hoover was involved," Moffett said. "I honestly could have tried to have named one hundred people that may have done something like this and I would not have come up with Jeff's name. That's where we are."
Republicans in the Kentucky House of Representatives have indicated they plan on hiring a law firm to investigate the report.
Kentucky Democratic leadership echoed Bevin's sentiments in its response.
"The House Democratic Caucus is against workplace harassment in any shape or form, and given the allegations that have been publicized today and in the recent past, it is necessary that an independent, objective and full investigation be done. Those individuals who have been proven to have engaged in harassing conduct or anything else improper should do the right thing and resign from their positions."
Secretary of State Alison Lundergan Grimes released the following statement:
"I join Governor Bevin in condemning the inexcusable actions that have come to light regarding members of the Republican House majority, including leadership. As Secretary of State, I have a zero-tolerance policy regarding harassment and hostile work environments with respect to the Secretary of State and State Board of Elections offices. 
"It is the obligation of state employees — including elected officials — to maintain workplaces where every colleague and constituent is respected. Those who do not meet that standard should resign or be terminated and held accountable," Grimes said.
Hoover released a statement on Saturday evening.
"I am disappointed that our Governor in his press conference Saturday afternoon would call not only for my resignation but the resignation of other individuals who have no involvement in this matter. The Governor has yet to ask our side of the story, he and I have not spoken since the story broke, and I did not receive a courtesy call from him before his grandstanding today.  Instead, he has accepted as fact only, one side of the story," Hoover said.
RELATED STORIES
+ Kentucky House GOP to investigate sexual harassment claim
+ Kentucky House speaker keeps job despite harassment report
+ The Latest: Lawmaker disputes GOP caucus support for speaker
Copyright 2017 WAVE 3 News. All Rights Reserved.