Honor Flight Bluegrass honors WWII vets on Pearl Harbor anniversary
Published: Dec. 7, 2017 at 9:36 PM EST
|
Updated: Dec. 7, 2017 at 11:13 PM EST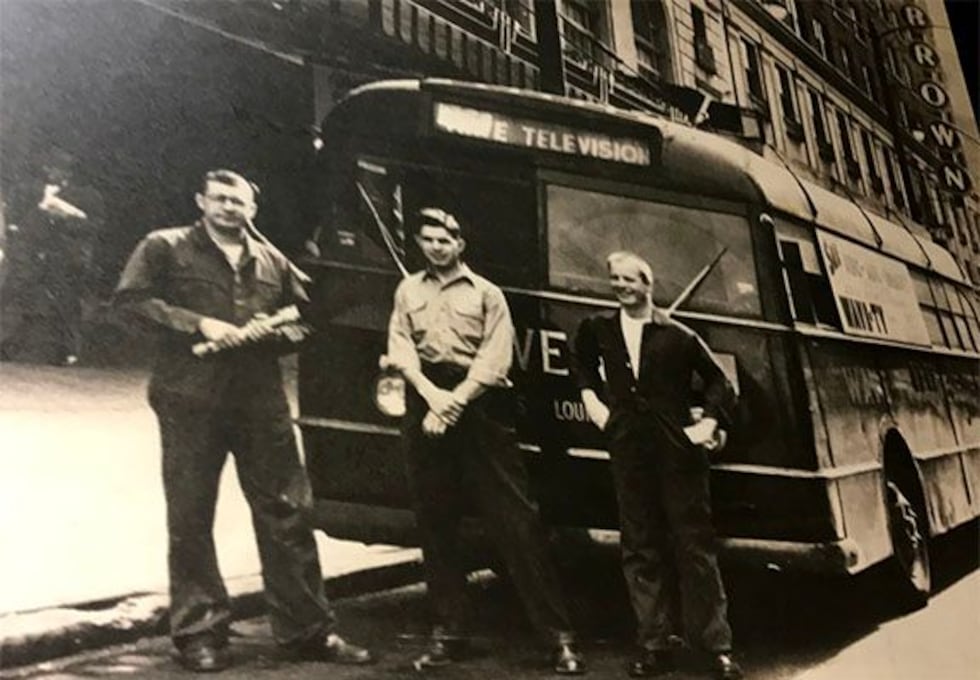 LOUISVILLE, KY (WAVE) - Thursday marked the 76 year anniversary of Pearl Harbor, a date "which will live in infamy," as FDR said during his speech in 1941.
Over 2,400 Americans were killed when the U.S. Naval Base at Pearl Harbor was bombed by Japan on December 7, 1941. It was the catalyst for the United States entering World War II by declaring war against Japan.
The moment in history was marked in Louisville by a special meeting of area World War II veterans, all of which were over 90 years old.
Twenty of the Louisville vets were treated to lunch at Mission Barbecue in St. Matthews. About half of them will head to Washington D.C. to see the World War II Memorial with Honor Flight Bluegrass.
Honor Flight Bluegrass is a nonprofit based in Louisville which gathers veterans to give them a VIP, first-class tour of their respective memorials to honor their service, the nonprofit's website said.
Deputy Commissioner of the Kentucky Department of Veterans Affairs Heather French Henry, along with Honor Flight Bluegrass officials, let other members of the group know that they'll be part of the next flight: D-Day, June 6, 2018.
"The facts are, we're losing about 360 World War II Veterans every day," Honor Flight Bluegrass Vice Chair Jeff Thoke said.
The group is urgently trying to find as many WWII vets as they can in Kentucky to make the trip to D.C..
Honor Flight Bluegrass views the veterans as part of the United States' living history.
MORE ON WAVE3.COM
+ World War II veteran turns 100 on Veterans Day
+ Service dog matched with veteran with PTSD
+ Indiana Pearl Harbor veteran's remains to be returned home
Willard Gill, 92, was a gunner in the U.S. Army Air Corps during World War II. Corporal Herman Stanley, 95, was one of the Flying Tigers shot down in Burma.
"At one point our plane was shot up and we lost fuel," Gill said.
"I walked through the jungle for 27 days," Stanley remembered.
How did he survive those 27 days? Stanley said he read his survival manual, which told him to follow the monkeys.
"You can eat what the monkeys eat because they won't eat anything that's poison," Stanley said.
Appliance king Charlie Wilson is a familiar name in Louisville and Southern Indiana. The 91-year-old served our country as a Navy seaman in the South Pacific. He feels lucky to be part of the flight.
"It's an honor," Wilson said. "It's nice the country has been so good."
Norman Preston, 92, a Marine Corp Lt. Colonel who taught aerial bombing and also happens to be a former WAVE 3 News Assistant Chief Engineer, was on the flight with his grandson.
"It means a lot," Preston told us of going to the Memorial. "Just looking at it will bring back memories."
Honor Flight Bluegrass officials say if you know any World War II vets who deserve this honor please contact them at Honorflightbluegrass.org or call Cletis Evans or Jeff Thoke at 502-418-3099.

Copyright 2017 WAVE 3 News. All rights reserved.