1 week after massive water main break, Shelby Park residents still dealing with mess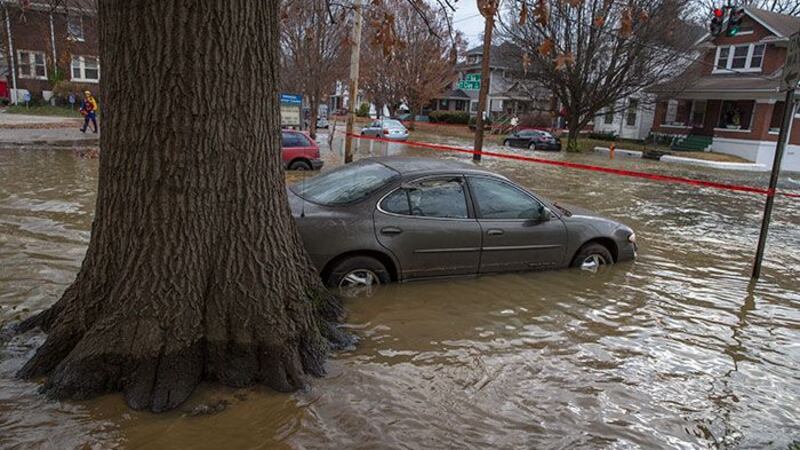 Updated: Dec. 19, 2017 at 6:14 PM EST
LOUISVILLE, KY (WAVE) - One week after a massive water main break in Shelby Park, a new pipe and valve are in place.
"We're actually filling that pipe with water right now and getting ready to disinfect it," Louisville Water Company Spokesperson Kelley Dearing Smith said. "Our hope is for that water main to be back in service by the end of the week."
>> More Louisville Metro news on wave3.com
On December 12, a 48-inch main broke at Clay and Oak Streets causing a flooding mess in the Shelby Park neighborhood. Cars and homes were damaged from the water.
Seven days later, the scene is still very active, with crews doing work and cleaning up the mud. Residents are still dealing with the headache that the water main break caused.
Arthur O'Bannon has lived in Shelby Park for 30 years. His home has a front row seat to the mess at Clay and Oak Street. His three cars got flooded.
"Havoc for three days without water," O'Bannon said. "Have to walk places to go to store. Our cars aren't working right now."
O'Bannon said his neighbors have been helping and he's been catching the bus. He's worried about getting his Christmas shopping done too.
Across the street from O'Bannon, is Charles Stewart.
"By me being the first house, I got all the water," Stewart said.
His basement was completely flooded.
"You can see the water mark there, two feet six inches," Stewart said.
Several of his belongings are destroyed. On top of that, he hasn't had electricity for the past week and hasn't been able to live at his house.
"I need some help," he told us. "I've never been through this before."
"This is not a job you can finish up in a couple of days," Dearing Smith said. "This was a massive break which means it's a massive clean up."
Dearing Smith says LWC has heard from 40-50 residents so far who have had an issue with their cars and homes.
PREVIOUS STORIES
+ Water main break floods roadways in Louisville
+ IMAGES: Water main break floods Louisville neighborhood
+ WATCH: Neighbors trapped in homes as streets remain flooded
The pipe that broke was put in 1893.
"Louisville Water expects a water main to last about a 100 years, so this pipe had obviously lived a good life," Dearing Smith said.
The new pipe that is going is the same size, 48 inches in diameter.
"Once we get everything in place, we are going to fill the holes back in and make sure the pipe is sealed properly to make sure there are no leaks," Dearing Smith said. "If everything looks good, we'll put the pipe back into service by the end of the week."
Louisville Water Company says they budgeted $700,000 just for repairs. They are still working to figure out what the claims damages will be.
LWC said customers are not going to see water rates go up because of this water main break in Shelby Park.
What should residents do? If you suffered damage, LWC encourages you to first contact your insurance company.
"Once you talk to your insurance company and you figure out what they can or can not do for you, than you come to Louisville Water Company and work with our claims department," Dearing Smith said. "We will treat people fairly and make this right."
But making it right, isn't always easy.
MORE FROM WAVE3.COM
+ 3 children, adult escape from house fire
+ LMPD: Armed, dangerous suspect forces victims to drive to ATM
+ LIST: Restaurants open for business on Christmas Day
Residents say it's been frustrating. When they call their insurance company, they get passed along, get hung up on, or they find they are going to have to pay a deductible they weren't ready for.
LWC says once everything is in place, they will fill the holes and make sure the pipe is sealed.
Copyright 2017 WAVE 3 News. All rights reserved.