Is new Churchill Downs gaming facility a big gamble?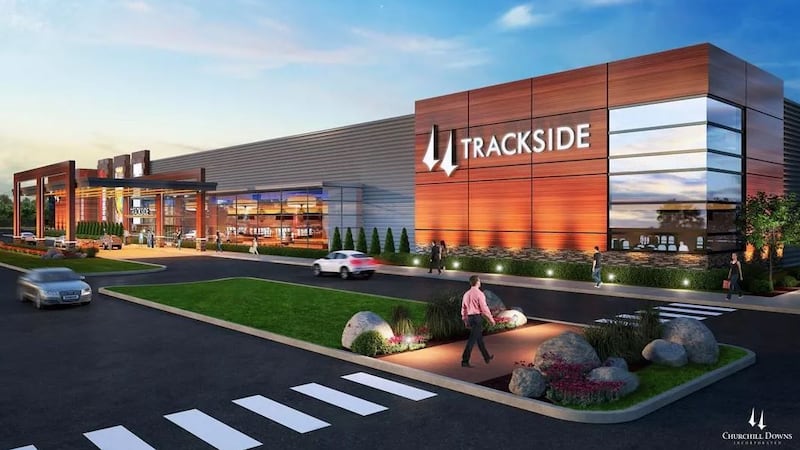 Published: Dec. 20, 2017 at 1:14 PM EST
|
Updated: Dec. 20, 2017 at 9:40 PM EST
LOUISVILLE, KY (WAVE) - It's official. On Wednesday ground was broken for Derby City Gaming, a $60 million entertainment investment for Churchill Downs.
>>> WATCH: Connie's report here
But is the investment a big gamble as legal questions are looming?
The new venture will put hundreds of historical gaming machines at the Trackside training facility off Poplar Level Road.
>> More Louisville Metro news on wave3.com
The issue remains: Are the racing machines that will be installed at the venue still considered pari-mutuel betting?
Churchill Downs officials say yes. The Kentucky Family Foundation says no, and a judge still has to decide.
During Wednesday's ceremony, Kevin Flanery, the President of Churchill Downs Racetrack, told the crowd, "It's that ceremonial moment, when we all know this is real, and that's a special thing."
It is the big announcement Churchill Downs had been waiting for.
"We're talking about 250 construction jobs and 150 full and part time jobs," Flanery said.
Derby City Gaming is an 85,000 square foot facility that will be filled with historical racing machines where players can bet on replays of old races without knowing names of horses, jockeys or race dates.
Churchill, along with longtime horsemen like Dale Romans, have argued it's a way to supplement purses and rebuild the Kentucky horse racing circuit, which has been losing out for years to tracks in other states with more gaming.
"We are kind of late in getting into the expanded gaming from the states around us," Romans said. "But that also has been an opportunity to watch what everybody else has done and what they've done wrong."
While the Kentucky Horse Racing Commission was given legal authority to regulate historical racing in 2014, the Kentucky Family Foundation is putting up a court challenge.
"This clearly isn't pari-mutuel betting," Family Foundation spokesman Martin Cothran argued.
Pari-mutuel is when competitors finish in a ranked order, as in a horse race, which is legal in most states.
The organization argues historical games are glorified slot machines for several reasons, including the way odds are calculated.
Are Churchill officials concerned about spending millions of dollars before a decision comes?
MORE FROM WAVE3.COM
+ New state vaccine rules could impact students
+ Window washing Santa spreads holiday cheer
+ Saint Xavier football coach steps down
"We've done our homework and we have to take a leap of faith," Flanery said.
"We're wondering if they (Churchill) are either doing this to pressure the courts to approve this form of gaming because they're investing so much money in it, or if they know something nobody else knows," Cothran said.
The case goes to trial in Franklin Circuit Court. It's scheduled to start Jan. 8.
Churchill Downs plans to open Derby City Gaming next fall. Historical wagering will not be available at Churchill's main facility.
Copyright 2017 WAVE 3 News. All rights reserved.