Revenue reported from tolling, changes coming for drivers
Updated: Dec. 20, 2017 at 9:39 PM EST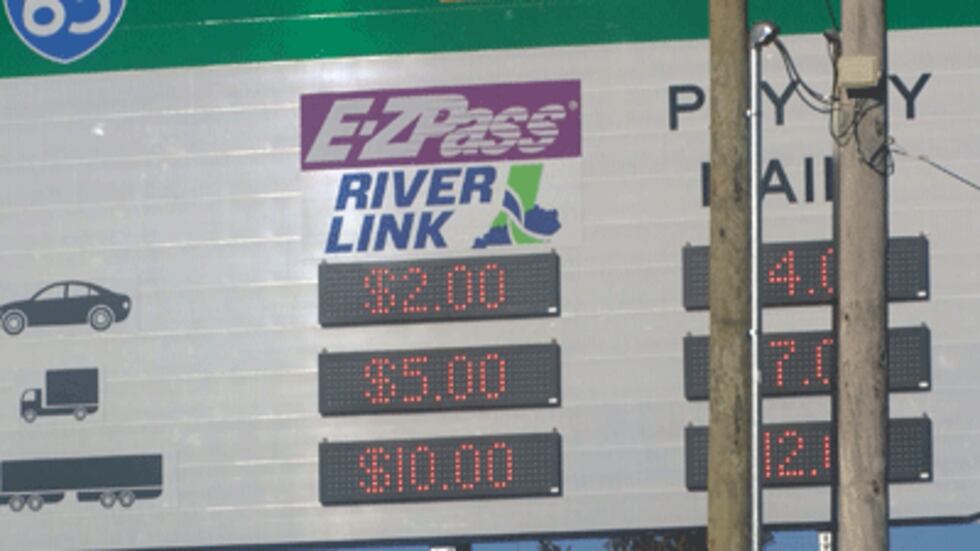 LOUISVILLE, KY (WAVE) - The region's bridge tolling system will soon turn one-year-old.
Tolling on the Kennedy, Abraham Lincoln and the Lewis and Clark Bridges began Dec. 30, 2016.
RiverLink announced they're making changes, some sooner than others.
If there's a wreck blocking your toll free route and you have to cross a tolled bridge - those tolls will be waived. That change, RiverLink officials said, will be made soon.
In order to have the toll waived, drivers will have to call RiverLink and speak to a customer service agent.
>> PREVIOUS STORY: Board approves 'pay-by-plate' option, toll waivers for RiverLink
A new "pay-by-plate" feature will have to wait until software is created. That will let drivers without transponders pay their bill online instead of waiting for a bill in the mail.
More than 57 million cars have traveled across the tolled bridges since they opened last December, according to RiverLink spokeswoman Mindy Peterson.
Having enough customer service agents to handle driver needs has been a problem since tolling began, Peterson acknowledged, but she says they are adding more agents.
"Really high call volumes in October, November. Still seeing that in December. And we are responding," Peterson said. "It's a top priority for both states...to make sure people are getting customer service in a quick fashion and the answers they need."
At the end of the third quarter (Sept. 30), the tolls had brought in $56 million, according to Peterson. Half will go to Indiana and half to Kentucky. The money brought in by the tolls will go toward the cost of building the bridges.
MORE FROM WAVE3.COM
+ New councilman avoids firing from JCPS teaching job
+ $22 million renovations begin for 3 Greater Clark County schools
+ LMPD detective dies following treatment for medical condition
RiverLink officials estimate the tolls will pay off the bridges by 2053.
For more on the tolls or to sign up for a transponder, visit the River Link website.
Copyright 2017 WAVE 3 News. All rights reserved.