Hoover question looms over KY House
Updated: Jan. 3, 2018 at 5:35 PM EST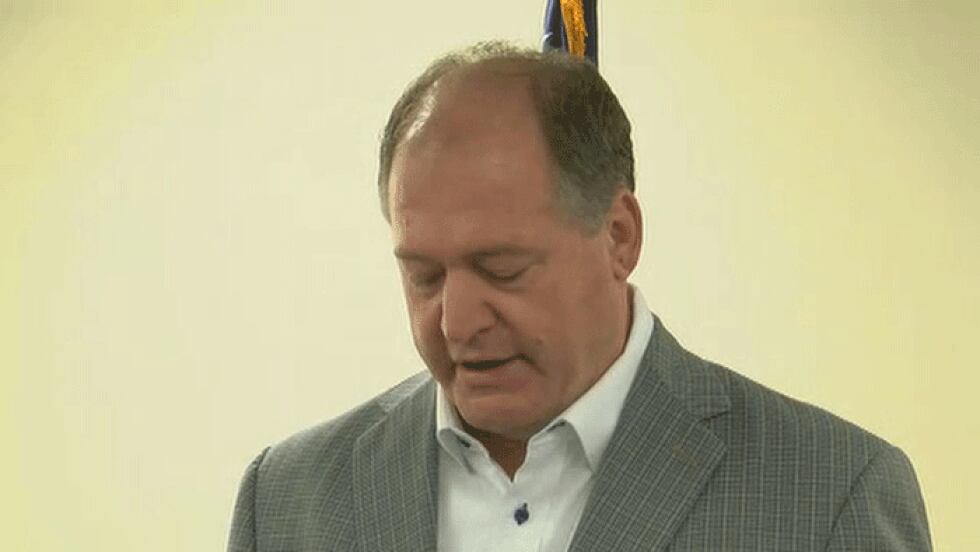 FRANKFORT, KY (CNHI) - The Kentucky House of Representatives passed no bills and met for only 30 minutes Wednesday, but controversy percolated just beneath the surface all the same.
It's not unusual for the General Assembly to do little business in the first few days of a session, but this year everything is colored by Speaker Jeff Hoover's tenacious attempt to hold onto his position.
The Jamestown Republican was part of a confidential settlement of sexual harassment charges by a legislative aide and, after The Courier-Journal revealed the existence of the settlement, Hoover announced on Nov. 5 he would resign as Speaker.
But Tuesday, on the first day of the 2018 General Assembly, Hoover instead ceded operational control of the House to Speaker Pro Tem David Osborne, R-Prospect, and retained his Speaker's position pending the outcome of an investigation into the charges by the Legislative Ethics Commission.
Rep. C. Wesley Morgan, R-Richmond, had previously filed a resolution seeking to expel Hoover. But on Tuesday, the House voted to change the rules for filing such a motion, including the requirement of two signatures by House members on a prescribed form.
Morgan said Wednesday he had not seen the new form, though Osborne said it had been approved and was available from the House clerk.
MORE FROM WAVE3.COM
+ Thieves steal school bus batteries
+ Fire starts in electrical room at Galt House Hotel
+ Mt. Washington man accused of child abuse
The Associated Press reported that Rep. Phil Moffett, R-Louisville, and seven other House Republicans who had previously called for Hoover's resignation filed a complaint seeking Hoover's removal under the new rules approved on Tuesday.
All of that occurred on the afternoon of the same day lawmakers underwent mandatory sexual harassment training in the morning - in a meeting from which reporters were barred.
Under the newly approved procedures, Osborne and Minority Leader Rocky Adkins, D-Sandy Hook, will each name three members of their respective parties to a special committee to hear the motion and charges. The committee will be chaired by the State Government Committee Chair, Jerry Miller, R-Louisville, who will vote only in the case of a tie vote by the other six members.
Morgan said his resolution "is just kind of in limbo." Morgan said he'd have no trouble securing a co-sponsor for his resolution as the new rules require but he conceded it will be difficult to attract enough votes in the House to expel Hoover.
"I can get a co-sponsor on that," Morgan said. "But a lot of representatives have a hard time expelling a person who has been elected by their constituents."
And Hoover enjoys considerable support among his caucus - perhaps as many as 35 of the 64 House Republicans.
RELATED STORY
+ Hoover does not resign as House Speaker
Morgan, Moffett and Gov. Matt Bevin have all called on Hoover to resign his House seat, but Hoover has said from the beginning he intends to retain his seat, regardless of the outcome of the question of who holds the Speaker's gavel.
Democrats also aren't likely to let go of the question either.
Wednesday's session was taken up mostly by two Democratic floor speeches, both condemning sexual harassment and directly, or indirectly, questioning the propriety of Hoover remaining as Speaker.
Rep. Kelly Flood, D-Lexington, said the morning's sexual harassment training made her think that the controversy surrounding the Speaker's position was as much about the abuse of power as about sex or attraction.
Referencing Tuesday's vote on rules, Flood suggested those were a way to avoid addressing the question of Hoover.
"When can we expect a proper debate about who is Speaker of the House?" Flood asked.
Rep. James Kay, D-Versailles, said culture and society need to change so that sexual harassment isn't tolerated, "and that should start right here in our own backyard."
While maybe not as uncomfortable as the Republicans' situation, Democrats are in an awkward position on the question of Hoover and the Speaker as well.
They can't condone sexual harassment and the controversy offers a political opportunity in the year when all 100 House seats will be on the ballot. But many of them, including Adkins and others in leadership, have enjoyed strong personal and professional relationships with Hoover who they also see as someone willing to defend the legislature against encroachment by Bevin.
Meanwhile, there's no apparent, or at least public evidence, of progress on pension reform. Osborne said Wednesday lawmakers are still waiting for scoring of some aspects of a House alternative to the original proposal.
He said it remains possible the General Assembly can pass a pension bill in its first two weeks.
Ronnie Ellis writes for CNHI News Service and is based in Frankfort. Reach him at rellis@cnhi.com. Follow him on Twitter @cnhifrankfort.
Copyright 2018 WAVE 3 News. All rights reserved.