Hoover's resolution fails, shows division in House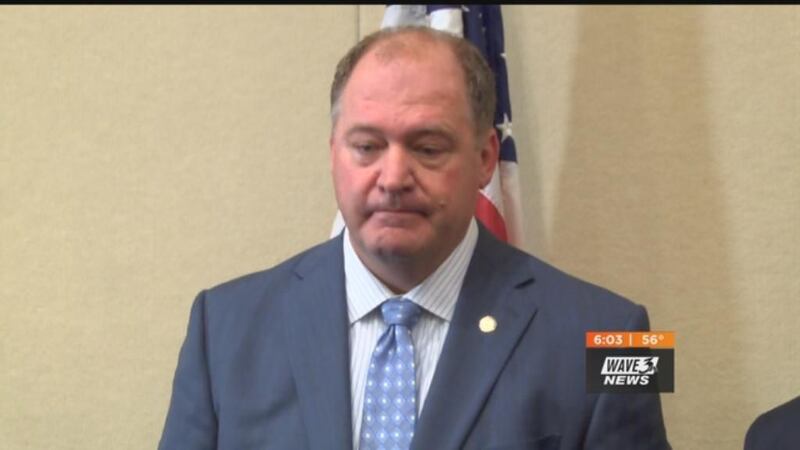 Updated: Jan. 9, 2018 at 6:26 PM EST
FRANKFORT, KY (CNHI) - Jeff Hoover, the Jamestown Republican who Monday resigned as Speaker of the Kentucky House of Representatives in the wake of sexual harassment charges, failed Tuesday to pass a House resolution to make those seeking to expel Hoover liable for any costs.
Speaker Pro Tem David Osborne, R-Prospect, who now presides over the House, ultimately ruled Hoover's resolution out of order but not before a procedural battle exposed the deep — and shifting — divisions among House Republicans.
But a procedural vote on a motion by Stan Lee, R-Lexington, to lay Hoover's motion on the Clerk's desk, effectively killing it, even divided House leadership with two members voting on either side of the issue.
Lee is one of eight House Republicans — Hoover refers to them as the "Gang of Eight" — who filed a motion last week seeking Hoover's expulsion.
The others are Phil Moffett of Louisville, Joe Fischer of Ft. Thomas, Addia Wuchner of Burlington, Kim King of Harrodsburg, Tim Moore of Elizabethtown, Russell Webber of Shepherdsville and Robert Benvenuti of Lexington.
Hoover's measure, if passed, would have made them liable for any costs he incurred if the measure to expel ultimately failed.
MORE ON WAVE3.COM
+ Indiana gov. to deliver state of the state speech
+ New bill would force state to pay legal fees of abusive spouses
+ Bullitt Co. official believes politics are behind charges
Lee quickly moved to have Hoover's motion laid on the Clerk's desk until copies could be made available for members to review before casting votes.
But Lee's motion failed on a 40-40 tie vote which was intriguing for how many votes changed in either direction leading up to the final tally and the division the final vote showed among both parties.
Osborne and Majority Whip Kevin Bratcher, R-Louisville, voted on the side of Lee to lay Hoover's measure on the Clerk's desk while Majority Leader Jonathan Shell, R-Lancaster, and Caucus Chair David Meade, R-Stanford, voted with Hoover. Democrats were also divided while 18 members didn't vote.
That seemed to clear the way for a vote on Hoover's resolution but Osborne agreed to a request to recess until the language of the resolution could be uploaded onto members' computer screens at their desks.
But 30 minutes later when Osborne reconvened the House, he also announced Hoover's resolution was out of order because it was an amendment to an earlier version of the rule and not the final version passed last week.
Hoover disagreed. He said his resolution "referred directly to the rule, and besides, the rules had been suspended (to hear Hoover's resolution) so it doesn't matter."
Osborne, however, said Hoover's resolution was tied to an earlier version of the rule.
"Once the resolution was on the (computer) screen, we realized it didn't address the proper version of the rule," Osborne explained.
He said nothing should be deduced from the split vote among the four leaders: "I voted in favor of laying it on the Clerk's desk because I like to err on the side of caution."
Osborne also brushed aside questions of whether the ongoing controversy over Hoover is impeding action on important but controversial and potentially contentious legislation such as pension reform and the budget.
"Contentious bills are contentious because they aren't easy to pass," Osborne said.
In November, The Courier-Journal reported that Hoover, Rep. Jim DeCesare, Rep. Michael Meredith and Rep. Brian Linder and Hoover's chief of staff signed a confidential settlement of a legislative aide's claims of sexual harassment.
Republican Gov. Matt Bevin and the eight members House Republicans who seek Hoover's expulsion called for him to resign and three days later Hoover announced he would do so. But his resignation had to be submitted to the full House which didn't convene until Jan. 2.
In the interim, Hoover said, he was urged by Republicans and Democrats alike not to step down and, on Jan. 2, he said in a letter to Osborne he was stepping aside "until further notice" while ceding power to manage the House to Osborne.
The following day, the House passed Rule 23 A which set up a process for members to seek expulsion of another, and then the next day, Moffett, Lee and the others filed their motion seeking Hoover's expulsion.
On Monday, Hoover made a passionate speech on the floor explaining his decisions but said in order to avoid harm to the House he was resigning immediately. But he suggested others had orchestrated his downfall and promised to expose them.
Ronnie Ellis writes for CNHI News Service and is based in Frankfort. Reach him at rellis@cnhi.com. Follow him on Twitter @cnhifrankfort.
Copyright 2018 WAVE 3 News. All rights reserved.