Lawmakers discuss proposed budget cuts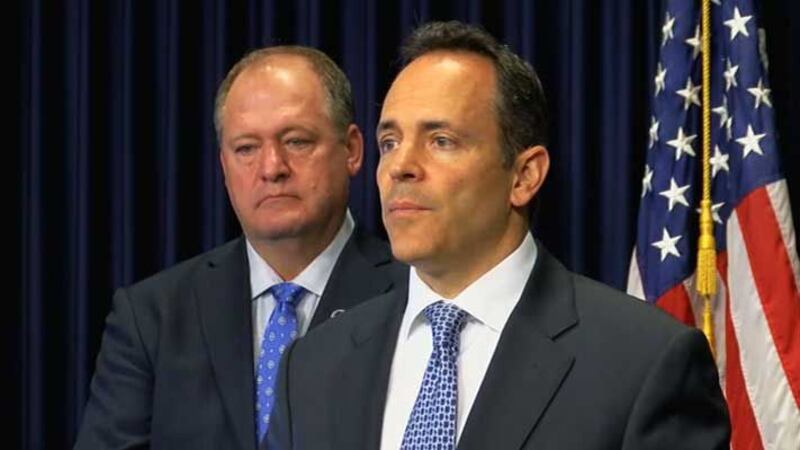 Updated: Jan. 18, 2018 at 6:25 PM EST
FRANKFORT — Neither chamber of the Kentucky General Assembly passed major legislation Thursday, but of course, it's Frankfort and that means the wheels were turning anyway.
There was still no word on Thursday about when the public may see a revised public pension reform bill, a major priority for Bevin and Republican lawmakers. House Republicans have been working to amend an earlier draft proposal which drew the ire of teachers, state workers and retirees.
But Speaker Pro Tem David Osborne, R-Prospect, said Wednesday he thinks the revised bill will be released soon and he thinks it will move through both chambers of the legislature "reasonably" quickly thereafter.
But most lawmakers continued to talk about some of the cuts in Gov. Matt Bevin's budget proposal, especially those which affect education.
Those cuts are necessary — at least in the absence of new revenue measures — to fund the $3.3 billion Bevin wants to appropriate to shore up Kentucky's badly underfunded public pension systems.
While Bevin's budget preserves per pupil funding SEEK funding at $3,981, it is also budgeting for much higher pension payments throughout state government — including local school districts. That means the SEEK dollars won't go as far.
On top of that, Bevin wants to reduce the state portion of transportation costs from 54 percent to 25 percent, ask local districts to cut administrative costs by 12 percent and to utilize reserves or "contingency funds."
While some districts have large contingency funds, many others don't meet the legally required level of two percent of total annual revenues.
One Democratic lawmaker, Rep. Kelly Flood, D-Lexington, said on the House floor Thursday that those who disagree with the proposals should offer alternatives, and she has filed a bill to increase the gas tax by 3 cents to pay for school bus safety measures.
She said the measure would generate $90 million annually, $30 million of which would be used for bonding to purchase new buses. Her bill would then add the $60 million to the SEEK formula for local transportation costs.
The governor's budget proposal also calls for other cuts which will impact education, including funds for textbooks and teacher training. Local districts will have to cut other parts of their budgets, dip into reserves or possibly seek local tax increases to offset those reductions, education advocates say.
"Local taxes are meant to supplement the primary investment in public education which must come from the state in order to achieve both adequacy and equity in every classroom," said Kerri Schelling, Executive Director of the Kentucky School Boards Association at a press conference Thursday. "But this budget asks for more of local districts to make up what the state is not funding and as a result Kentucky's children will suffer."
Schelling spoke at a press conference by a coalition of groups which plans to lobby lawmakers to close some tax loopholes to produce more state revenue and avoid cuts to critical programs and services.
The Governor's Office of Budget Analysis estimates the state forgoes as much as $13 billion in various tax exemptions and credits while producing only about $10.5 billion or so in tax revenues.
"A decade of budget cuts have deeply strained the systems that keep us educated, healthy, safe and prosperous," said Jason Bailey, Executive Director of the Kentucky Center for Economic Policy, at the same press conference where Schelling spoke.
"The current budget proposal is drastic in its cuts and it's time for our leaders to stop letting billions slip away in tax breaks at the same time we erode our foundational public services," Bailey added.
Also on Thursday, former House Speaker Jeff Hoover, R-Jamestown, filed papers for re-election from his 83rd House District representing Russell, Clinton, and Cumberland and counties and part of Pulaski.
Hoover resigned as Speaker after admitting he was one of four Republican House members who signed a confidential settlement of sexual harassment claims by a former legislative aide. Hoover admitted to sending and receiving "inappropriate text messages" but said he was not guilty of sexual harassment.
Ronnie Ellis writes for CNHI News Service and is based in Frankfort. Reach him at rellis@cnhi.com. Follow him on Twitter @cnhifrankfort.