Restored 1962 Corvette unveiled on 4th anniversary of Museum Sinkhole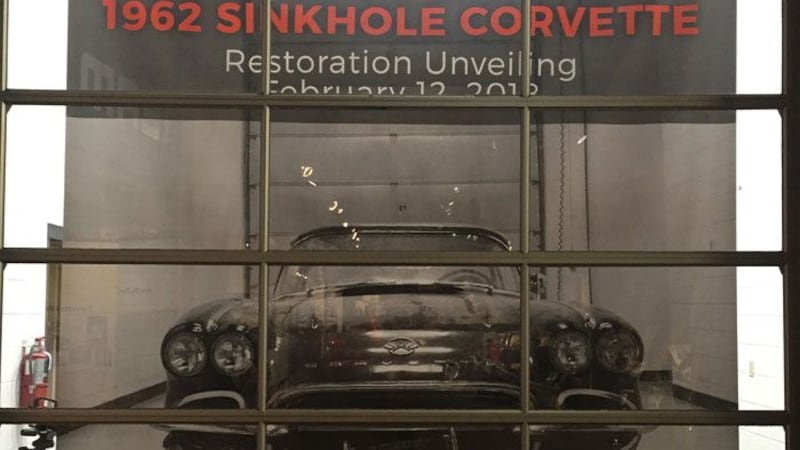 Published: Feb. 11, 2018 at 3:50 PM EST
|
Updated: Feb. 12, 2018 at 11:06 AM EST
BOWLING GREEN, KY (WAVE) - Four years ago, all eyes were on Bowling Green, when a massive sinkhole opened and up inside the National Corvette Museum.
The Corvette Museum made headlines on February 12, 2014, when a sinkhole opened under the floor of the Skydome area of the museum early in the morning, causing a portion of the floor to collapse. The Museum turned what could have been a disaster into a tourist attraction, offering visitors the chance to see the sinkhole up close, as well as all eight Corvettes in their damaged state.
MORE FROM WAVE3.COM
+ The U.S. Navy is WAVE Country Strong
+ Master P 'Balling for a Cause' in Louisville
+ Valentine's Day events, specials around WAVE Country
The rare and one-of-a-kind Corvettes, portions of the display stands and rails, large concrete floor slabs and dirt fell into the sinkhole, causing serious damage to some of the Corvettes.  The remaining cars in the Skydome were immediately removed from that area. The hole has been mostly filled and two of the Corvettes were restored by General Motors.
In 2016, the Museum opened 'Corvette Cave In: The Skydome Sinkhole Experience' exhibit offering a hands-on, in-depth look at the story of what happened.
In 2017, it was announced that restoration would begin on the final repairable Corvette – the Tuxedo Black 1962.
On Monday, February 12, on the four year anniversary of the sinkhole, the restored 1962 Corvette was placed back in its original pre-sinkhole display space in the Skydome and revealed to the public. This classic will be the third and final re-stored corvette that took the plunge. Five other cars weren't able to be repaired.
A ceremony was held in the Skydome at 9 a.m. central time. Watch the video from the ceremony below:
Copyright 2018 WAVE 3 News. All rights reserved.