Falls City, Louisville City FC to debut specialty craft beer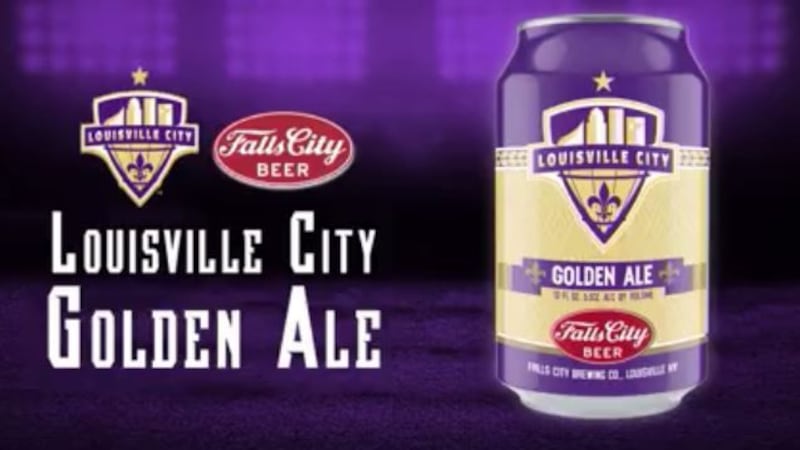 Updated: Mar. 22, 2018 at 7:54 AM EDT
LOUISVILLE, KY (WAVE) - Louisville City Football Club and Falls City Brewing Company are partnering to bring a hometown craft beer to fans.
Louisville City Golden Ale is described as a light, easy drinking golden ale that is brewed with rye malt and citrus hops.
The purple and gold packaging features text that says: "When the Boys in Purple are storming down the pitch, give them a yell of support and raise a can of this refreshing golden ale with citrus hops and rye malt to let them know you're all in For the City!"
MORE FROM WAVE3.COM
+ Nulu Bock Fest moved due to weather
+ 2,000-year-old liquor found in China
+ Omni Hotel pleasing guests, booking thousands two weeks after opening
The beer will be available all season long starting at Saturday's match against North Carolina FC at Slugger Field which begins at 3 p.m.
"We couldn't be more excited about this collaboration and continued partnership with Louisville City," Brian U'Sellis, Marketing Manager at Falls City Beer Co, said. "It's been incredible watching the team grow over the past few years and now getting to provide the fans with an official beer is something we are extremely proud of."
The beer will also be available in 6 packs in grocery and liquor stores, as well as bars and restaurants around Louisville and WAVE Country.
The beer's release will be celebrated during a special event at Falls City's newest taproom and brewery on April 11.
Copyright 2018 WAVE 3 News. All rights reserved.