Truck drivers, companies push effort to report human trafficking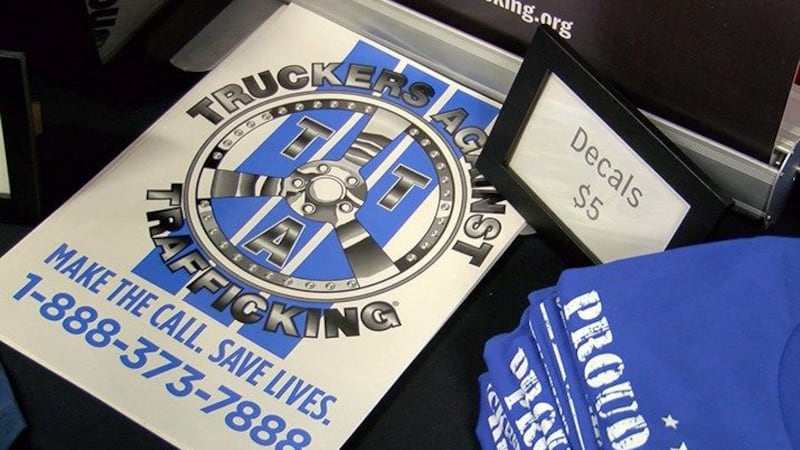 Published: Mar. 22, 2018 at 8:28 PM EDT
|
Updated: Mar. 22, 2018 at 9:23 PM EDT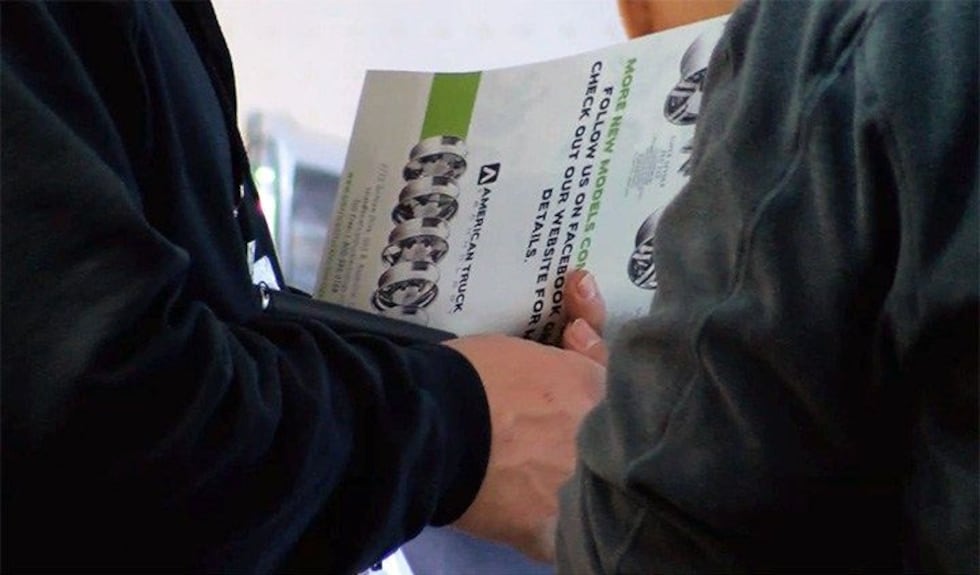 LOUISVILLE, KY (WAVE) - Being part of the solution when it comes to human trafficking - that was the plan as Louisville welcomed thousands of truck drivers to the Mid-America Trucking Show. The annual show took place at the Kentucky Fair and Expo Center.
Traffickers have been known to send underage girls to convention hotels and truck stops. A national group, Truckers Against Trafficking (TAT), has an effort underway to get drivers to report the crime.
Not long ago, the Louisville Metro Police Department made a huge bust at the convention known as The Biggest Farm Show Ever. Seventeen men were arrested by the LMPD in 'Operation Pretty Pink Tractor'. Police said those men answered an ad thinking an undercover officer was a minor they could have sex with. It's a story the group Truckers Against Trafficking knows well.
"I simply had a girl come up and knock on my door and ask me if I wanted a date," UPS truck driver John McKown, who helps TAT, remembered.
Truck drivers like McKown have been targeted by traffickers at truck stops for years. McKown, who now drives for UPS, said that girl came up to his truck in Ohio when he worked for another company several years ago, and she looked about 17.
"Then I noticed a car at the end of the parking lot lurking, if you will," McKown explained. "So now I know, I probably missed a really good opportunity to help."
MORE ON WAVE3.COM
+ Louisville FBI: Don't overlook signs of human trafficking
+ LMPD makes multiple arrests during human trafficking sting
+ Feds: 17 charged as drug trafficking organization dismantled
+ Drop-in center for survivors of sex trafficking opens in Louisville
Back then, McKown didn't think to call police.
"Honestly, it's not on their radar," TAT Operations Director Laura Cyrus said of drivers not reporting trafficking.
Now, McKown, other drivers and driver's companies like UPS are trying to train drivers to do something, like make a call to a hotline.
The education on human trafficking is being shared at another target, conventions. It's the reason the group is taking part in the mid-America show.
"Where there's a demand for commercial sex, pimps and traffickers will bring their victims and try to exploit them," Cyrus explained of traffickers.
TAT gave tips to help drivers be more aware on the road, providing information about what to look for if they see someone who looks like a minor involved in something odd or criminal.
"Or if they see anyone that appears to be under the control of a pimp,"  Cyrus said.
At the convention, truck drivers picked up pocket-sized pamphlets and windshield stickers with the hotline number. They also watched a video on the group's website.
The education efforts are working. Truck drivers have made nearly 2000 calls to the National Hotline, which resulted in 557 confirmed cases of human trafficking.
"That's involved over 1000 victims, with 319 of those being children," Cyrus said. "That's 319 kids and over 1000 people total, that have had their lives changed just because someone in the trucking industry took the time to make the call."
The group said the response at the convention was overwhelmingly positive.
"I have daughters or granddaughters, and I want to help," TAT said they kept hearing from drivers,

Visit www.truckersagainsttrafficking.org for more information. 

Copyright 2018 WAVE 3 News. All rights reserved.