With Justify and Magnum Moon contending, could Apollo lift his curse?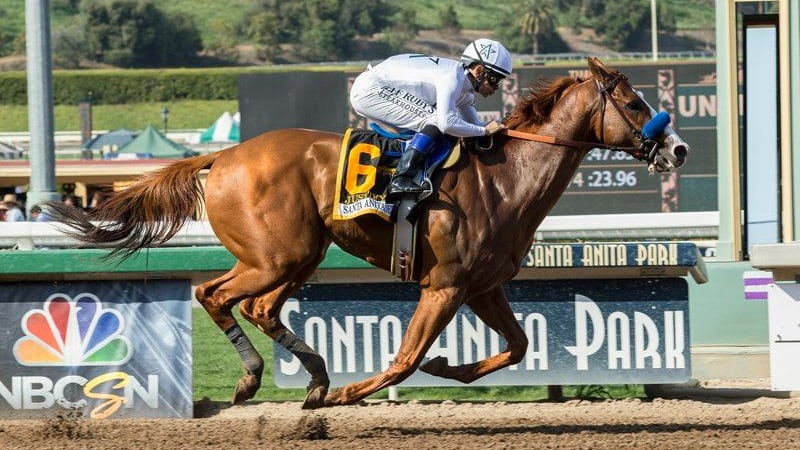 Updated: Apr. 27, 2018 at 4:23 PM EDT
LOUISVILLE (WAVE) – Serious American historians may recall 1882 as the year when future President Franklin D. Roosevelt was born, when Thomas Edison ushered in the "electrical age" by flipping a switch to illuminate a section of lower Manhattan, and when the outlaw Jesse James was shot and kllled.
>> GET OUR FREE DERBY APP: Apple | Android
But to Kentucky Derby historians, the year means only one thing: Apollo won the eighth edition of the budding classic at Churchill Downs without having raced as a 2-year-old, the first and still the only  time that feat has been accomplished.
From that race on May 16, 1882, to the 144th running on Saturday, May 5, poor Apollo has not been able to rest in peace. Every time a horse unraced at age two makes the Derby field, the media digs up the so-called "Curse of Apollo" and examines it again.
This year, Apollo will be mentioned more than ever because neither of the two likely Derby favorites -- Justify and Magnum Moon, both unbeaten this year -- raced at two. With both, it apparently was a matter of trainers Bob Baffert and Todd Pletcher, respectively, for not wanting to rush them.
Magnum Moon,  for example, is so young that he won't celebrate his official third birthday until May 9, four days after his date with destiny at Churchill Downs.
It was different with Apollo, who was gelded before his 3-year-old year. Generally, colts are gelded because they're too headstrong to handle. It's a tough decision for owners because geldings have no value as breeding stallions.
Besides becoming the second gelding to win the Derby (the first was Vagrant in 1876), Apollo is worth remembering for a couple of other reasons. He was ridden by Babe Hurd, an African-American who also was a steeplechase rider. And his victory was tainted somewhat by the first Derby controversy.
The overwhelming favorite in the 1882 Derby was Runnymede, co-owned and trained by Green Morris, who was known as a huge gambler. At the top of the stretch, Runnymede surged to the lead and looked to be a winner. Inside the eight pole, however, Apollo overtook him and hung on for a half-length victory.
MORE DERBY COVERAGE
+ Mount Rushmore: Kent Taylor lists the 4 best active jockeys in horse racing
+ Final Fractions Theory: Jennie Rees breaks down contenders' final Derby prep splits
+ Is points leader, 2-year-old champ good enough to spread some Good Magic?
A few years later, Capt. S.S. Brown of Pittsburgh, a prominent horseman, charged publicly that bookmakers had arranged for Runnymede to lose, enabling them to keep all the money that had been wagered on the favorite.
Brown's charges were never substantiated. However, it's interesting to note -- as historian Jim Bolus did in his book, "Kentucky Derby Stories" -- that six days after the 1882 Derby, Runnymede romped to victory in the Clark Stakes at Churchill, with Apollo finishing more than 10 lengths behind the winner in third place.
Nevertheless, Apollo's enduring claim to fame has been that he's the only Derby winner who did not race as a 2-year-old.
Both Magnum Moon and Justify have won their races so easily that many bettors will reason, not unreasonably, that talent will trump the "Curse of Apollo." In their final Derby preps, Magnum Moon and Justify both went wire-to-wire to win the Arkansas Derby by four lengths and the Santa Anita Derby by three, respectively.
Still, questions arise. Do they have enough seasoning? Can they carry their speed over the Derby's mile and a quarter? Are they tough enough to handle the inevitable traffic problems that come with the Derby's 20-horse field?
If they fail to win, it will be for one of those reasons more than the "Curse of Apollo." Then again, Apollo's claim to fame has lasted 136 years, which surely has to surpass any other record for longevity in the sports world.
One more thing about 1882. Apollo's stunning upset in the Derby was not the top animal story of the year. That distinction belongs to showman P.T. Barnum's purchase of the giant elephant Jumbo from the London Zoo.
Billy Reed is a longtime sportswriter who contributes regular columns to WAVE3.com.
Copyright 2018 WAVE 3 News. All rights reserved.