KDF marathon ends in finish line proposal
Published: Apr. 28, 2018 at 7:35 PM EDT
|
Updated: Apr. 28, 2018 at 7:48 PM EDT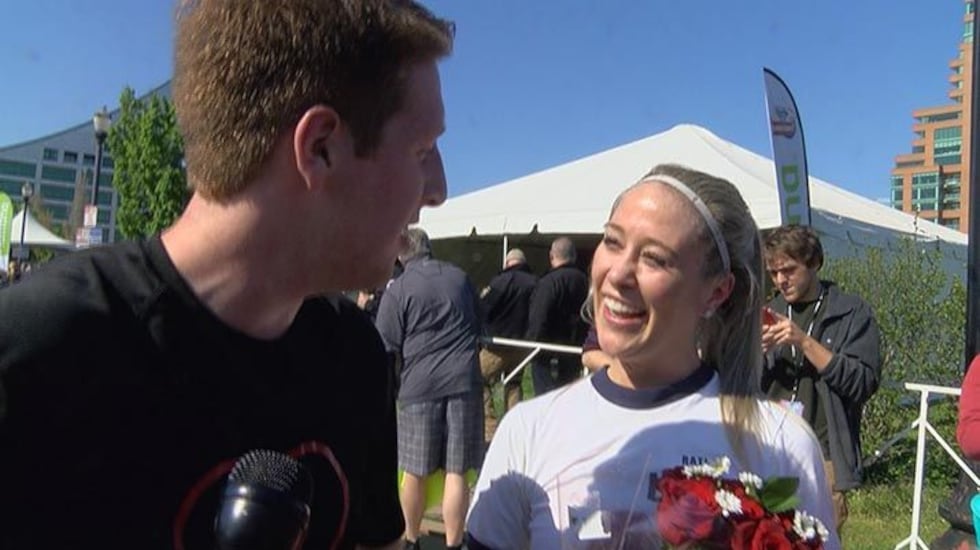 LOUISVILLE, KY (WAVE) - Streets packed with people, race flags and the sound of a bugle rang out over Main Street.
It's no secret the Kentucky Derby Festival has taken over Louisville, but on Saturday morning, it wasn't horses fighting to cross the finish line first.
"A good four hour jog is what I'm expecting," KDF Marathon runner Connor Murray said.
Murray's father Sean said it may be his son's first race ever, but he's got high hopes for him.
"I'm thinking he's going to win it, but I'm not positive," Sean said. "I'm going to be at the finish line though."
With that same location in mind, runners hit the pavement at the KDF Marathon and miniMarathon.
MORE FROM WAVE3.COM
+ Bob Baffert talks future and Derby 144 from Santa Anita Park
+ KDF Marathon volunteer giving back after son's life saved at finish line
+ What's the best Derby Day bet? That's easy
As thousands of feet shuffled throughout town, the family of Adam Seibert waited at the finish line with a surprise in the form of a ring, that had been planned for months.
So, when Melissa Ratliff crossed the finish line, the man she ran with - who had been her boyfriend at the start of the race - d ropped to one knee, but not out of exhaustion.
"Well, she's like super competitive," Seibert said. "So, I was really afraid she was going to dart ahead of us. That kind of would've messed up the plan."
Ratliff said "yes" to Seibert's proposal, and after 13.1 miles, got to take home something shiny and gold. It just wasn't the finishers medal she thought she'd be getting.
"I had no idea," Ratliff said.
A surprise at the end of a long run, that now marks the starting line to a new journey.
Jeremy Johnson (US) finished the marathon in first place with a time of 2:21:19. Dani Fischer (US) was the first woman to finish the marathon at 2:55:07.
Copyright 2018 WAVE 3 News. All rights reserved.